Education and Social Justice Summer Research Fellowship
The Berkley Center for Religion, Peace & World Affairs and the Center for Social Justice Research, Teaching & Service (CSJ) administer the Education & Social Justice Research Fellowship. In early 2010, the Berkley Center and the CSJ created the Education and Social Justice Project to engage students and build knowledge about the deep connections between global challenges of poverty and education. Only through better access to education will people living in poverty be able to seize opportunities in an increasingly global economy. While policy analysts have documented the widespread failure of governments to meet this imperative, we still know relatively little about successful local efforts led by religious communities to advance sustainable community development and social justice through education.
Undergraduate student research fellows spend three weeks of summer conducting interviews on best practices at the intersection of education and social justice. Local hosts are Jesuit-led institutions doing innovative educational work in support of under-resourced communities. 
During the preceding spring, fellows are supported in their submission of an IRB application, train in interview techniques, and prepare for field-based research in their specific sites through the 1-credit Pass/Fail course, UNXD 230 Education and Social Justice Research Methods. During three weeks of summer fieldwork, fellows conduct between 12-20 interviews and receive a 1-credit tuition scholarship to take UNXD 231 Education and Social Justice Fieldwork. In the fall semester, after completing data collection, fellows take UNXD 232: Digital Scholarship through which they create an engaging online report of their findings. They present their research in a public forum and their final reports are digitally published. The research fellowship funds travel, lodging, meals, and includes a $1,500 award.
Competitive applicants are in strong academic standing and specifically interested in international education research. Adaptability and flexibility are important characteristics, as fellows are typically placed in contexts with simple accommodations. Serious applicants should visit the project webpage to read past fellows' reports and watch their research presentations.
For over ten years, Georgetown students have been making an impact through the Education and Social Justice Fellowship. Read more about the last decade of ESJ here.
How to apply in Fall 2022 for the 2023 Fellowship
The application cycle opens on Friday, September 23, the day of our annual Global Social Justice Research Symposium at which our 2022 Fellows will be presenting. The application deadline is 5:00pm ET on Friday, October 28, 2022.
Register on Campus Groups for the Zoom link for an Information Session on Wednesday, October 12 at 8am ET or Wednesday, October 12 at 8pm ET for any questions about the application process. The application is open to all GU undergraduates, including Hoyas at GU-Qatar and the School of Continuing Studies.
A complete application includes: a resume (PDF or WORD), unofficial transcript (image or PDF), and 250 words personal statement (Word or PDF) emailed to csjresearch@georgetown.edu, and a completed Google Form application by no later than 5pm ET on Friday, October 28. A VIEW ONLY application is available here.
Current and Past Fellows
2022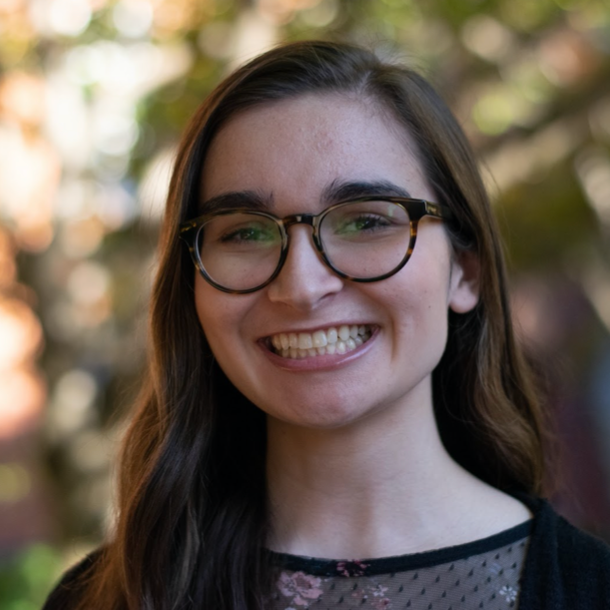 Sarah Craig (SFS'23)
Sarah is a junior in the SFS majoring in Culture and Politics and minoring in Italian and Creative Writing. As a first-generation student from Metro Detroit, Sarah has found community on campus with both the Community Scholars Program and the Georgetown Scholars Program (GSP). On campus, she works with the GSP Student Board to advocate for visibility and equity for FGLI students on campus. She also serves as the Opinion Editor for The Georgetown Voice, where she often writes about education and mental health. Sarah is a strong believer in students prioritizing their mental wellbeing and is interested in analyzing higher education through a disability studies perspective. In her free time, Sarah enjoys reading, bullet journaling, and rewatching her favorite TV shows.
Domenic DeSantes (C'23)
Domenic DeSantes (C'23) is an undergraduate student in the College majoring in Government with minors in Religion, Ethics, and World Affairs and Education, Inquiry, and Justice. On campus, Domenic enjoys playing the saxophone in the Pep Band, singing in the Chapel Choir, and leading retreats with Catholic Ministry. In addition, Domenic represents his peers on the College Academic Council, volunteers at a local elementary school, and works as a student editorial assistant at the Berkley Center. Originally from the coastal town of Marshfield, MA, Domenic likes to spend time with his family outdoors, cheer on Boston sports teams, and learn about the local history.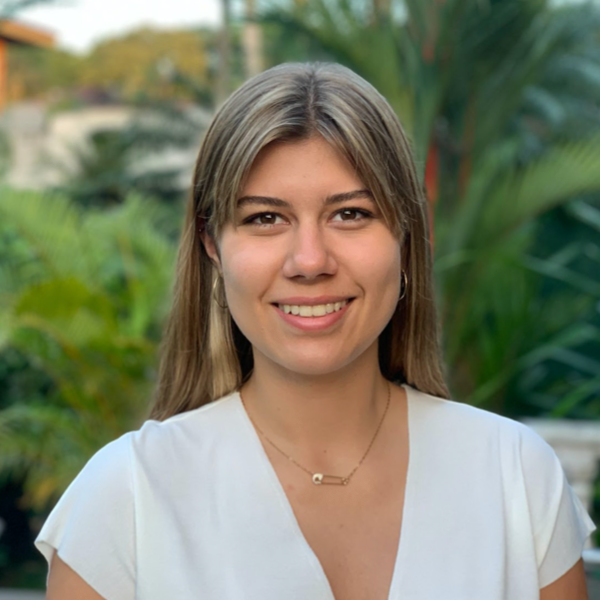 Vikki Hengelbrok (C'23)
Vikki (COL'23) is a Justice and Peace Studies major, minoring in Psychology. She is German-American but has spent most of her life living in Panama City, Panama. On campus she is on the board of Hoyas Inspire Language Learners(HILL), a club whose purpose aligns with her passion of working with kids and encouraging multiculturalism from a young age. She has worked alongside immigrant teachers to help discover and ease the barriers they face when trying to work in DC Public Schools and she currently holds a position as a program assistant at Georgetown's BMW center for German and European Studies. Some of her favorite past times are playing the guitar, cooking with her mom and watching really bad reality TV.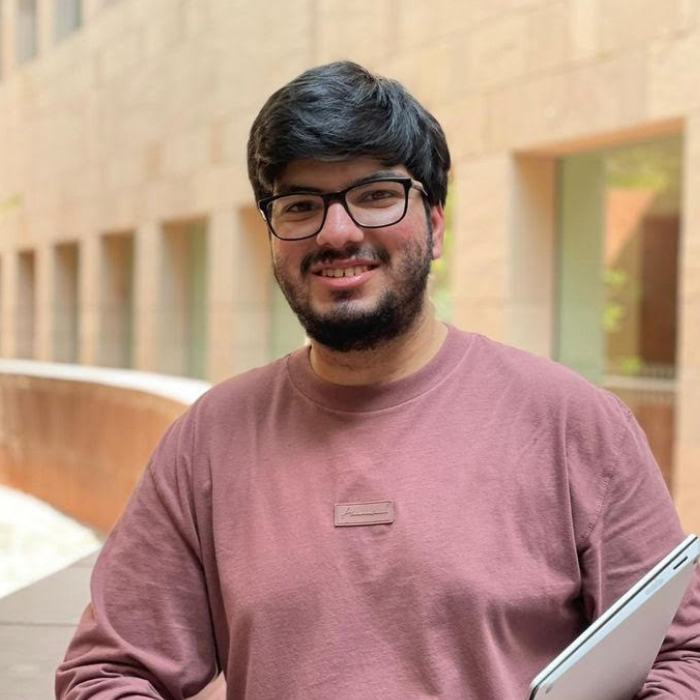 Kartikeya Uniyal (GU-Q'23)
Kartikeya Uniyal (GU-Q'23) is an undergraduate student at Georgetown's campus in Qatar, where he studies International Politics. Hailing from India, Kartikeya is deeply passionate about designing low-cost educational interventions for public schools in India to make 21st-century skills accessible, attainable, and enforceable. He was selected for the Clinton Global Initiative University fellowship in 2019 where he worked on building a Commitment to Action to make education equitable. He launched Access Labs, an education technology non-profit in 2021 and is currently working with the Peace Innovation Lab at Stanford to design a peace education curriculum. At GU-Q, he works in the Office of Student Life to develop student programs and design communications for the student body. In his free time, he enjoys watching football (soccer), teaching, and discussing Indian politics.
Past Education and Social Justice Research Fellows
Ryan Covington — Nairobi, Kenya
Brian Dillon — Manila, Philippines
Cindy Chuck — Santiago, Chile
Deven Comen — Mumbai, India
Conor Finnegan — Johannesburg, South Africa
Shea Houlihan — Gulu, Uganda
Charlotte Markson — Montevideo, Uruguay
Lisa Frank — La Paz, Bolivia
Sarah Baran — Buenos Aires, Argentina
Annie Dale — Battamban, Cambodia
Nicholas DiRago — Lima, Peru
Elisabeth Lembo — Krakow, Poland
Kendra Layton — Dhaka, Bangladesh
Adam Barton — Brazil
Elizabeth "Hopey" Fink — Ougadougou, Burkina Faso
Gianna Maita — Managua, Nicaragua
Sabrina Khan — Dakar, Senegal
Nico Lake — Guatemala
Dana Drecksel — South Korea
Mariam Diefallah — Rwanda
Sarah Jannarone — Slovenia
Khaliyah Legette — Kenya
Jonathan Thralll — Jordan
Carolyn Vilter — Mexico
Mary Breen — Dominican Republic
Nicholas Na — Australia
Harshita Nadimpalli — Mozambique
Anastasia Sendoun — Ukraine
Brittany Fried — Zambia
Mayeesha Galiba — Rome, Italy
Grace Koehl — Madrid, Spain
Erin Luck — Bogota, Colombia
Mackenzie Price — Dublin, Ireland
Allison (Ally) Ross — Thailand
Amber Stanford — Lima, Peru (virtual)
Gabby Villadolid — San Franciso, California (hybrid)
Rohil Kulkarni and Tierra Hatfield — Nepal (virtual)
Henry James — The Bronx, New York
Tommy Teravainen — Boston, Massachusetts
Yazmin Munoz — Richmond, Virginia
Katherine (Kat) Woodard — Bethlehem (virtual)