Education and Social Justice Summer Research Fellowship
The call for applications for the Education and Social Justice Project Summer Research Fellowship 2020 is closed.
The Berkley Center for Religion, Peace & World Affairs and the Center for Social Justice Research, Teaching & Service (CSJ) administer the Education & Social Justice Summer Research Fellowship. In early 2010, the Berkley Center and the CSJ created the Education and Social Justice Project to engage students and build knowledge about the deep connections between global challenges of poverty and education. Only through better access to education will the world's poor be able to seize opportunities in an increasingly global economy. While policy analysts have documented the widespread failure of governments to meet this imperative, we still know relatively little about successful local efforts led by religious communities to advance economic and social development through education.
Undergraduate student research fellows spend three weeks conducting interviews on best practices at the intersection of education and social justice. Local hosts are Jesuit-led institutions doing innovative educational work in support of underresourced communities.
During the preceeding spring, fellows are supported in their submission of an IRB application, trained in interview techniques, and prepared for field-based research in their specific sites through the 1-credit Pass/Fail course, UNXD 230 Education and Social Justice Research Methods. During three weeks of summer fieldwork, fellows conduct between 12-20 interviews. They submit a report for faculty review upon their return to campus, as well as excerpts of interviews with high quality photographs. They present their research in a recorded public forum and their final reports are digitally published. The research fellowship funds travel, lodging, meals, and includes a $1,500 award. One half of the award is provided upon completion of project deliverables.
Competitive applicants are in strong academic standing and specifically interested in international education research. Adaptability and flexibility are important characteristics, as fellows are typically placed in contexts with simple accommodations. Serious applicants should visit the project webpage to read past fellows' reports and watch their research presentations.
How to apply: Email application materials as attachment(s) to csjresearch@georgetown.edu with the subject heading "ESJ Fellowship: Your First Name Last Name". Each application document should be a DOC(X) or PDF and be called your FIRST NAME LAST NAME followed by the type of document (ex. resume, transcript, etc.).
A complete application includes:
applicant's resume, including global experiences and language proficiency;
applicant's updated unofficial transcript (screenshot is acceptable);
applicant's personal statement of no more than 250 words. The statement should not be a research plan, but rather a description of the applicant's interest in the program and related skills and experience.
contact information (email address and phone number) for two references, one of whom must be a Georgetown University professor. Please state your relationship to/how you know these references.
Finalist interviews will be held in November 2019; finalists and required to submit a writing sample and a scan of their passport. Applicants must be in good academic standing and enrolled and on campus in the Spring 2019. Applicants can not be studying abroad in Spring 2020 but they can be studying abroad during Fall 2019 or Fall 2020. The 2020 Education and Social Justice Research fellows will be announced in early December 2019. No late applications can be accepted. GU-Qatar students are invited to apply.
Note: While the fieldwork is only three weeks, the reserach fellowship is one year. Each fellow is expected to contribute a significant portion of the summer to data analysis and writing.
Serious applicants are highly encouraged to attend an information session at the CSJ (130 Poulton Hall) on Friday, October 11 from 10:00am-11:00am. Please contact csjresearch@georgetown.edu with questions.
Current and Past Fellows
Summer 2020
Kelsey Fjermedal (C'20)
Kelsey is a Hoya of the Georgetown University College in the Class of 2020 pursuing a major in English and a minor in Psychology. Having grown up in Rochester, New York, where education systems in urban and suburban districts are severely polarized, she is dedicated to improving education at all scholastic levels — from primary through vocational heights. Kelsey has tutored elementary students from low-income families in reading, writing, and math. Additionally, during the summer of 2018, Kelsey was a teacher for the Urban League of Rochester's Think, Write, Speak: ROC City Future Reporters program where she helped thirty talented, urban high school students prepare for careers in media and journalism. She has also interned at Freedman Consulting, LLC and UBS in Rochester.
Rohil Kulkarni (SFS'21)
Rohil is a Class of 2021 Hoya, studying Science, Technology, and International Affairs in the School of Foreign Service. As a transfer student from New York University (NYU), Rohil is still enjoying the new experiences that come with being a Hoya and is looking forward to further exploring Washington DC's vibrant restaurant scene. Over the past two years, Rohil has worked for purpose-driven tech companies, looking to leverage their digital assets to substantively address societal issues. Additionally, Rohil is a Project Manager for Hilltop Consultants, an organization that applies a consulting focused methodology in working with high impact non-profit clients. In his free time, Rohil enjoys training Muay Thai, reading novels by Indian authors, and cooking new recipes (sometimes successfully).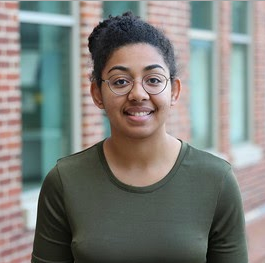 Amber Stanford (C'21)
Amber Stanford is a member of the Class of 2021 in the College, studying government and theology. Although she is originally from Maryland, the Hilltop has quickly become her second home. On campus, Amber mentors first-year students while leading ESCAPE retreats and working as a Resident Assistant in Village C West. She also works as a Research Assistant at the Berkley Center and plans and facilitates dialogues on identity and politics as part of GU Politics' IdentiTEA series. This year, Amber has been researching the roles of Black women and Black religion in the Peoples Temple (Jonestown) through the Figge Undergraduate Research Fellowship. She is fascinated by the ways in which religions and governments interact with power structures in society. In her free time, she enjoys reading, talking about Harry Potter and bragging about the greatness of Old Bay seasoning.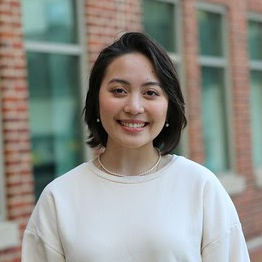 Gabby Villadolid (C'21)
A current member of the Georgetown undergraduate class of 2021, Gabby Villadolid transferred into the Georgetown College from Loyola Marymount during her sophomore year to major in Justice and Peace Studies. As the daughter of Filipino immigrants with strong ties back home, Gabby's interest in research stems from education as a means for furthering social and economic development in under-resourced communities which began with her time as a 2019 summer intern at the Philippine chapter of Ronald McDonald House Charities. In addition to creating and developing a nation-wide public elementary school database for RMDHC's flagship Read to Learn English and Filipino literacy program, Gabby also visited and monitored beneficiary provincial schools during the program's preliminary pre-testing period. Gabby continues to express her passion for community-building through her current roles as a Catholic Faith Community leader, as a weekly cantor, and a member of Georgetown's Contemporary Choir.
Past Education and Social Justice Summer Research Fellows
Ryan Covington — Nairobi, Kenya
Brian Dillon — Manila, Philippines
Cindy Chuck — Santiago, Chile
Deven Comen — Mumbai, India
Conor Finnegan — Johannesburg, South Africa
Shea Houlihan — Gulu, Uganda
Charlotte Markson — Montevideo, Uruguay
Lisa Frank, La Paz, Bolivia
Sarah Baran — Buenos Aires, Argentina
Annie Dale — Battamban, Cambodia
Nicholas DiRago — Lima, Peru
Elisabeth Lembo — Krakow, Poland
Kendra Layton — Dhaka, Bangladesh
Adam Barton — Brazil
Elizabeth "Hopey" Fink — Ougadougou, Burkina Faso
Gianna Maita — Managua, Nicaragua
Sabrina Khan — Dakar, Senegal
Nico Lake — Guatemala
Dana Drecksel — South Korea
Mariam Diefallah — Rwanda
Sarah Jannarone — Slovenia
Khaliyah Legette — Kenya
Jonathan Thralll — Jordan
Carolyn Vilter — Mexico
Mary Breen — Dominican Republic
Nicholas Na — Australia
Harshita Nadimpalli — Mozambique
Anastasia Sendoun — Ukraine
Brittany Fried — Zambia
Mayeesha Galiba — Italy
Grace Koehl — Spain
Erin Luck — Columbia
Isaac Kim — Malawi
Mackenzie Price — Dublin, Ireland
Allison(Ally) Ross — Thailand
Past Education and Social Justice Summer Research Fellows