Faculty Fellows
Associate Professor, Edmund A. Walsh School of Foreign Service
Clovis and Hala Salaam Maksoud Chair in Arab Studies, Edmund A. Walsh School of Foreign Service
CSJ Faculty Fellow for School of Foreign Service
Send a message
Fida Adely is an Associate Professor at the Center for Contemporary Arab Studies in the School of Foreign Service at Georgetown University and the Clovis and Hala Salaam Maksoud Chair in Arab Studies. She is also currently serving as the Academic Director for the Arab Studies program at Georgetown. Dr. Adely is an anthropologist and her research interests include education, labor, development, and gender in the Arab world. Her primary research site has been Jordan, although she teaches and writes about the Arab world more broadly. 
Dr. Adely received her PhD in 2007 at Teachers College (Columbia University) in Comparative Education and Anthropology. She was previously a lecturer at Columbia University's School for International and Public Affairs, as well as a visiting professor in the Department of International and Transcultural Studies at Teachers College/Columbia University.
Associate Teaching Professor and Co-Director, Justice & Peace Program, Georgetown College
CSJ Senior Faculty Fellow for Justice and Peace
Send a message
Elham Atashi holds a Ph.D. in Conflict Analysis and Resolution from George Mason University. She is a certified mediator and skilled negotiator having received her training from the Program on Negotiation at Harvard Law School. She has published on issues relating to violence prevention, peace processes, reconciliation, transformation of armed groups to political parties, indigenous and traditional justice processes. Her current research focuses on linking conflict transformation and transitional justice mechanisms to interpretative oral histories in Afghanistan, Uganda and post-genocide society in Rwanda. She serves on the editorial board of the African Peace and Conflict Journal and has been on a consultative body in developing mechanisms for dealing with the legacy of the past injustices in Northern Ireland. Dr. Atashi also works extensively as a practitioner for several organizations providing support to transformative local community reconciliation, justice and peace building initiatives. She is also a professional facilitator conducting dialogues for groups in conflict and co-existence workshops for youth from Israel-Palestine, Northern Ireland, Afghanistan, India, and Pakistan.
Professor, McDonough School of Business
CSJ Senior Faculty Fellow for the McDonough School of Business
Send a message
Robert J. Bies (Ph.D., Stanford University) is Professor of Management and Founder of the Executive Master's in Leadership Program at the McDonough School of Business at Georgetown University. Professor Bies' current research focuses on leadership, the delivery of bad news, organizational justice, and revenge and forgiveness in the workplace. He has published extensively on these topics and related issues in academic journals such as Academy of Management Annals, Academy of Management Journal, Academy of Management Review, Human Relations, Journal of Applied Psychology, Journal of Business Ethics, Journal of Management, Journal of Social Issues, Organization Science, and Organizational Behavior and Human Decision Processes, as well as in the prestigious annual series of analytical essays, Research in Organizational Behavior. At Georgetown, Professor Bies has twice received the Joseph Le Moine Award for Undergraduate and Graduate Teaching Excellence at the McDonough School of Business; he received the Outstanding Professor of the International Executive MBA Program (IEMBA-2) at the McDonough School of Business; he received the Outstanding Professor of the Executive Master's in Leadership Program (2008) at the McDonough School of Business; he received the Academic Council Professor of the Year Student Choice Award (2011) at the McDonough School of Business; he was voted MBA Professor of the Module by MBA students at the McDonough School of Business, Spring 2011; and he was voted Outstanding Professor of the Global Executive MBA Program (2012) at the McDonough School of Business. Professor Bies also leads the Executive Master's in Leadership program for DC Public School Principals. He is a member of CSJ's Community-based Learning (CBL) Designation Advisory Board and regularly teaches CBL courses.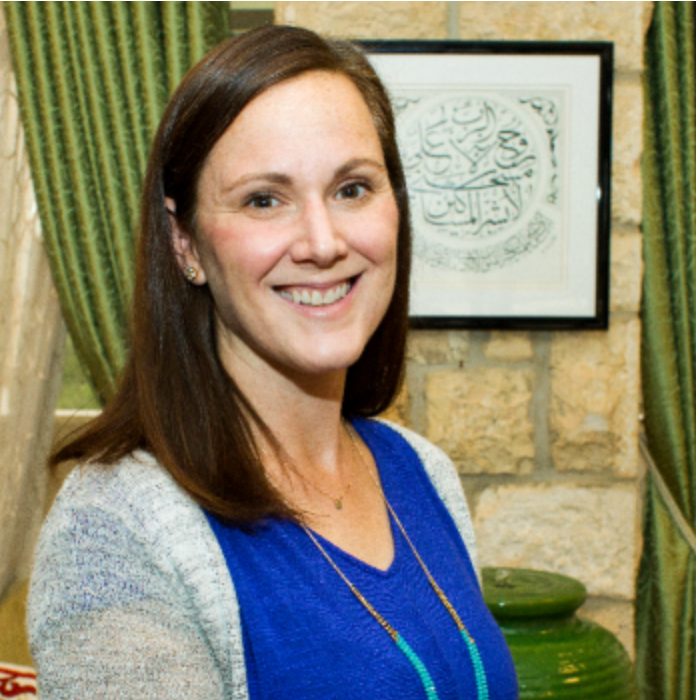 Director of Student Programs, Berkley Center for Religion, Peace & World Affairs
CSJ Faculty Fellow
Send a message
Ryann Craig is the Berkley Center's Director of Student Programs and Adjunct Assistant Professor in the Alwaleed Center for Muslim-Christian Understanding. Before joining the Berkley Center, she worked in academic support and student advising as Assistant Director of Academic Support at Catholic University. She recently served as a copyeditor for the International Qurʾanic Studies Association's journal and monograph series (2016-2018) and has been involved in a number of religious minority cultural heritage preservation initiatives in the U.S., Germany, and Israel/Palestine. Dr. Craig completed her Ph.D. (Catholic University of America) on the use of qurʾanic prooftexts by medieval Christian Arabic and Syriac authors while in-residence as a doctoral fellow at the Tantur Ecumenical Institute in Jerusalem. She is co-editor with Vasile-Octavian Mihoc of A Contested Coexistence: Insights in Arabic Christianity from Theology to Migration (Harrassowitz, 2020).  
At the Berkley Center, Dr. Craig oversees the Religion, Ethics, and World Affairs minor, the Doyle Global Dialogue, and the Doyle Seminars. In collaboration with the Center for Social Justice, Dr. Craig co-facilitates the Education and Social Justice Fellowship. She also works closely with CNDLS on the Doyle Engaging Difference Program.
Adjunct Lecturer, Department of Theology and Religious Studies, Georgetown College
Adjunct Lecturer, School of Continuing Studies, Georgetown Summer School
CSJ Faculty Fellow
Send a message
Kerry Danner earned her doctorate after years of working with nonprofits to improve women's well being and nonprofits to empower marginalized and poor students in Washington DC. Dr. Danner specializes in Christian virtue ethics, Catholic social thought, liberation theologies, the religious imagination and critical university studies and is passionate about bringing these subjects in conversation with the realities of climate change. She joined Georgetown's faculty in 2011 and currently serves on the American Academy of Religion's Board of Directors.
She has a particular interest in community-based learning, social justice and Ignatian pedagogy, prioritizing the importance of reflection on our context and experience to deepen our understanding. Dr. Danner is committed to teaching in the spirit of humanism, ensuring her theology classes a place where students of no or any religious affiliation are welcome. Her current classes include Theology 001: Problem of God; Theology 060: Justice and Consumer Culture; and Theology 177: CBL: Courage, Hope, Justice.
Dr. Danner resides in Takoma Park with her spouse Jay and children Karis and Devin. They also foster one to two children at any given time. She enjoys dancing though often has to do so while folding laundry.
Assistant Professor, Department of Theology and Religious Studies, Georgetown College
CSJ Faculty Fellow
Send a message
Peter Folan, S.J. is a Jesuit priest from Massapequa Park, New York. He earned his Ph.D. in systematic theology from Boston College in 2019, after which he joined Georgetown's Department of Theology and Religious Studies. Folan's research focuses primarily on the role of the Bible in theological reflection, especially in ecumenical theology, though he also has written on ecclesiology, sacramental theology, and governance issues in higher education. Prior to coming to Georgetown, he taught religion at the Holy Trinity School (Washington, DC) and Bishop McNamara High School (Forestville, MD), as well as philosophy at the University of Scranton, and theology at Boston College. He serves as a member of Le Moyne College's Board of Trustees and America Media's Board of Directors.
Adjunct Professor, Edmund A. Walsh School of Foreign Service Undergraduate Program (BSFS)
Adjunct Professor, Edmund A. Walsh School of Foreign Service Science, Technology and International Affairs Program (STIA)
CSJ Fellow for Refugee Engaged Scholarship
Send a message
Elżbieta M. Goździak is both a migration scholar and a forced migrant. She left her native Poland in 1984 with a one-way passport. Currently, she is Visiting Professor at the Center for Migration Studies at the Adam Mickiewicz University in Pozna, Poland and Research Professor at the OsloMet University in Oslo, Norway. She teaches as an Adjunct professor in STIA and CULP. She was Research Professor at ISIM in the School of Foreign Service at Georgetown University (2002-2018). In the Fall of 2016, she served as the George Soros Visiting Chair in Public Policy at the Central European University in Budapest, Hungary. Formerly, she was Editor-in-Chief of International Migration and held a senior position with the Office of Refugee Resettlement (ORR). She taught at Howard University in the Social Work with Displaced Populations Program and managed a program area on admissions and resettlement of refugees in industrialized countries for the Refugee Policy Group. Prior to immigrating to the US, she was an Assistant Professor of Anthropology at the Adam Mickiewicz University in Poznań, Poland. Her research agenda focuses on refugee and immigrant integration, global health and humanitarianism, child migration, and human trafficking. You can follow her research here.
Associate Professor, Department of History, Georgetown College
CSJ Senior Faculty Fellow for Washington, DC Initiatives
Send a message
Maurice Jackson is Associate Professor of History and African American Studies and Affiliated Professor of Performing Arts (Jazz) at Georgetown University; he is also a Fellow at the GU Center for Social Justice. He teaches Atlantic, African-American, Washington, DC, and Jazz history. He is currently at work on a social, political and cultural history of African-Americans in Washington (1700s until the present), where he has lived his entire adult life. He was inducted into the Washington, DC Hall of Fame, in 2009 for his years of service to the people of the nation's capital. A former shipyard rigger, longshoreman, house painter, and longtime organizer, Jackson was a Kluge Fellow at the Library of Congress and was a 2011-12 Fellow at the Woodrow Wilson International Center for Scholars. Professor Jackson was recently appointed by Washington, DC Mayor Vincent Gray as the first chairman of the District of Columbia Commission on African American Affairs.
Assistant Professor, Department of Sociology, Georgetown College
CSJ Faculty Fellow for Food Justice
Send a message
Yuki Kato is an urban sociologist whose research interests intersect the subfields of social stratification, food and environment justice, culture and consumption, and symbolic interaction. She has conducted research on the rise of urban agricultural cultivation and the alternative food movement in post-Katrina New Orleans, with a particular focus on food access disparity, spatial and social landscape of alternative food activism, and contested meanings of local during a major urban transformation. Her new research project examines the role of social entrepreneurs working on Environmental and Food Justice work in a gentrifying city. She also has another project underway that explores the impacts of urban agricultural policies in spurring and sustaining urban gardening and farming activities in North American cities.
Senior Research Fellow
Special Assistant to the President
CSJ Senior Faculty Fellow for Washington, DC Initiatives
Send a message
As a DC native and a priest of the Archdiocese of Washington, Reverend Raymond Kemp serves as a Special Assistant to the President of the University. Father Kemp is an active member of the Georgetown and DC communities and engages with students on issues of biblical and social justice. As an adjunct professor in the Department of Theology, Father Kemp teaches The Church and the Poor in the fall semester and Struggle and Transcendence in the spring semester. He is part of the team for the McDonough School of Business's Executive Masters in Leadership for DC Public School principals. When is not molding young minds, Father Kemp helps out in DC parishes and is very involved with leading retreats for parish and faith groups on biblical justice. As a Senior Fellow for Woodstock Theological Center, he directed two programs, Faith in the City and Preaching the Just Word. As part of Preaching the Just Word, Father Kemp is currently working on a manuscript with Sister Nancy Sheridan.
Executive Director, ITL and CSIC
Executive Director, Center for Social Impact Communication
CSJ Faculty Fellow for School for Continuing Studies
Send a message
Denise Keyes is the founder of Georgetown's Center for Social Impact Communication (CSIC) and its executive director. In this role, she developed and taught the first signature cause consulting class in 2007, which served as the catalyst for the launch of the Center the following year. Denise pioneered the Center's approach to applied research by forging numerous industry partnerships, and securing funding from corporations and foundations.  During this time, she also served as the Senior Associate Dean of Georgetown University's Division of Professional Communications and founded four masters programs, and as well as CSIC over more than a decade. She currently divides her time at Georgetown between CSIC, and the Institute for Transformational Leadership as their executive director.
Research Professor, McCourt School of Public Policy
Director, Center for Public and Nonprofit Leadership
Waldemar Nielsen Chair in Philanthropy
CSJ Senior Faculty Fellow for Nonprofit Leadership
Send a message
Kathy Kretman is the Director at Georgetown University's Center for Public and Nonprofit Leadership. She also serves as Research Professor for the Georgetown Public Policy Institute, where she teaches public leadership. As an affiliate faculty member of the Corporation for National and Community Service's National Service Leadership Institute, Dr. Kretman provided executive training to AmeriCorps and VISTA directors around the country. She also served on the faculty of George Washington University's Graduate School of Political Management, where she taught courses in public leadership, contemporary issues in American politics, and women and politics. As a Program Officer at the Corporation for National and Community Service, Dr. Kretman managed a multi-million dollar portfolio of grants to national and community-based nonprofit organizations, universities and school districts.
Associate Professor, School of Nursing and Health Studies, International Health
CSJ Faculty Fellow for Humanitarian Assistance
Send a message
Myriam Vuckovic comes to Georgetown University after a number of years working in the international health sector. From 2001-2006, Prof. Vuckovic worked for the Deutsche Gesellschaft für Technische Zusammenarbeit (GTZ), in Germany. During that time she gained a great deal of experience in HIV and AIDS control, focusing on HIV mainstreaming and HIV&AIDS workplace programs in eastern and southern Africa. As a long-time member of the German delegation to the Board of the Global Fund to Fight AIDS, Tuberculosis and Malaria (GFATM), Prof. Vuckovic gained in-depth knowledge of international partnerships and policies in the field of HIV&AIDS, TB and malaria control. In 2006, she joined the Department of International Health as a faculty member, teaching "Maternal and Child Health in Developing Countries"; "HIV/AIDS: Who will live? Who shall pay? What can be done?" and "International Health Internship II: International Organizations."
From 2009-2012, Prof. Vuckovic joined the German International Cooperation (GIZ) in Tanzania and spent three years as a Technical Advisor to the Tanzanian Government on HIV prevention and sexual and reproductive health issues. In August 2012, Prof. Vuckovic returned to Georgetown's International Health Department once more and is currently teaching several of the department's core courses: "Introduction to Global Health," "Maternal and Child Health in Developing Countries,""Global Health Promotion," "Globalization & Health" and "Global Health Internship," as well as an elective for undergraduate and graduate students on "Urbanization, Health & the Environment". In addition, Prof. Vuckovic is serving as the Director of the undergraduate program in Global Health.
Associate Teaching Professor, Program in Education, Inquiry and Justice, Georgetown College
CSJ Senior Faculty Fellow for Education, Inquiry and Justice
Send a message
Sabrina Wesley-Nero directs the undergraduate Program in Education, Inquiry and Justice (EDIJ) and is head of the Learning and Teaching Concentration(Georgetown's first educator certification and preparation program) of the M.A. in Educational Transformation (MAET) program. Professor Wesley-Nero is a Georgetown (SFS'95) and Teach for America (Bay Area '95) alumna with extensive experience in the field of education. She has taught in English as a Second Language, Spanish bilingual, Spanish immersion, and general education K-12 classrooms. Professor. Wesley-Nero served as Director of Curriculum for the New Teacher Project in New York. Upon completion of her Ph.D. in 2008 at George Mason University's Graduate School of Education, she joined Center for Inspired Teaching in Washington, DC, and was instrumental in the development of their teacher certification curriculum and contributed to the organization's chartering of the Inspired Teaching Public Charter School. At Georgetown, Professor Wesley-Nero teaches courses on urban education, educating the whole child, and culturally relevant approaches in education. Professor Wesley-Nero conducts research on the preparation of teachers of English learners, professional development of school leaders, and effective education of English learners.
Professor and Department Chair, Department of Psychology, Georgetown College
CSJ Senior Faculty Fellow for Georgetown College
Send a message
A professor of psychology and adjunct professor of law at Georgetown University, Jennifer L. Woolard obtained her Ph.D. in Developmental and Community Psychology from the University of Virginia. She has written on several aspects of adolescent development in the family and legal contexts, including juvenile delinquency, mental health, and intimate violence. Her current research with juvenile defendants addresses competence to stand trial, the attorney-client relationship, and the role of parents in adolescents' legal decision making, among other topics. Dr. Woolard has also published on the prevention of child abuse and neglect, policy regarding female delinquency, mental health needs of juvenile delinquents, and the overlap between child maltreatment and spouse abuse. She has presented her research findings to a wide variety of academic, legal, and policy audiences and testifies as an expert in criminal hearings. 
If you are a Georgetown University faculty member interested in learning more about the CSJ Faculty Fellows program, please contact CSJ's Executive Director, Dr. Andria Wisler.