Our Response to Recent Humanitarian Disasters
For those in our Hoya community who can and who wish to support disaster relief efforts through monetary donations, we have tapped our network of Catholic, Jesuit, and mission-based partners to identify several organizations serving the affected regions.
Floods in Libya (September 2023)
The following organizations are working in and with Libya in the aftermath of the devastating floods center on the city of Derna and surrounding areas.
Support for Libya can be pursued through several different channels including LibAid (new window), the Libyan Red Crescent (new window), and The World Food Programme (new window). UNICEF, (new window) the British Red Cross (new window), and UK in Libya LTD (new window) have also organized flood relief campaigns for Libya.
International Rescue Committee
Earthquake in Morocco (September 2023)
This local GoFundMe campaign comes via Grace Rector (SFS'21) who is currently living in Morocco on a Fulbright fellowship.
See this compilation (new window) and this website (new window) of resources for the earthquake in Morocco shared by students and alumni of the Center for Contemporary Arab Studies/CCAS. This GoFundMe (new window) has also circulated throughout the academic community. This (new window) fundraiser supports medium and long-term relief in the High Atlas Mountains to support agricultural restoration.
These suggestions of organizations to which to donate to support Morocco comes from the New York Times.
Moroccan Red Crescent Society (new window) rescue teams were on the ground with the International Federation of Red Cross and Red Crescent Societies to support search and rescue operations and provide medical and transportation. You can donate to their Disaster Response Emergency Fund here (new window).
The United Nations Children's Fund, better known as UNICEF, said it is ready to help the Moroccan government with immediate needs. UNICEF is accepting donations (new window).
Doctors Without Borders, which responds to medical emergencies around the world, said it is sending teams to Morocco to assess local needs and provide support if necessary. It is collecting donations here (new window).
CARE, an organization that works with impoverished communities, is accepting donations (new window) to support its teams on the ground that are helping provide emergency water, food, shelter, and medical support.
Responding to the Maui wildfires (August 2023)
The Lahaina Restoration Society is requesting donations given the impact of the wildfires on its historic sites.
The "Maui Strong" fund is an initiative by the Hawai'i Community Foundation (new window), to provide community resilience with resources for disaster preparedness, response, and recovery. The fund is currently being deployed to support Maui residents affected by the wildfires on Maui.
The Maui Food Bank (new window) is accepting monetary donations.
Hawai'i People Fund is accepting donations.
The Maui Humane Society (new window) said that its shelters were already over capacity before the fires. In a statement on Facebook (new window), the group said that donations of supplies could be delivered through its Amazon wishlist (new window).
Georgetown's Alumni Club in Hawaii can be followed/liked/contacted via their Facebook page.
Devastation from the earthquakes in Turkey, Syria, and surrounding countries (February 2023)
Mass devastation and suffering, as well as thousands of casualties, has followed the earthquakes and aftershocks that hit Turkey on February 6, 2023. Below are suggestions on local and national organizations for financial donations from members of our Georgetown community from this part of the world. We are also reaching out to our Jesuit partners in Lebanon and surrounding countries. 

In collaboration with Hoyas from and connected to the region, the Center for Social Justice is sponsoring collection to support disaster relief. Drop off the following items to the to the Center for Social Justice in Suite 130, Poulton Hall weekdays between 8:00 am – 8:00 pm:
You can also donate a monetary contribution to purchase and sponsor purchase of these items at http://bit.ly/gudisasterrelief.

The Jesuits in Turkey and Syria have responded, while also experiencing the instability of the moment. Read more at Jesuit Global. To donate to Jesuit relief efforts in Turkey, visit amo-fme.org. For more information and and to donate to Jesuit relief efforts in Syria, visit jrs.net. [For donations from the USA click here.]

SAMS is a global medical relief organization that is working on the frontlines of crisis relief in Syria and beyond to save lives and alleviate suffering.

MED GLOBAL is a humanitarian charitable non-governmental organization that provides emergency response and health programs to build resilience among vulnerable communities around the world.

Donate to AKUT, the Turkish Philanthropy Funds, or Turkey Mozaik Foundation to support search and rescue operations in Turkey.

Syria Relief and Development (SRD) 

Syria Forum USA

Swasia Charity Foundation 

NuDay Syria

White Helmets 
Destruction from Hurricane Ian in Southeast United States (September 2022)
The destruction from Hurricane Ian which landed as a category 4 storm south of Tampa, Florida is significant, with deaths in the several dozens. The storm system then made landfall again at Georgetown, South Carolina. Members of the Georgetown community who can are encouraged to donate financially to one of these organizations, whether from our Jesuit community and the larger Catholic response network, or the wider community of local and international organizations providing disaster relief.
Catholic Charities USA for Southwest Florida
Catholic Community Foundation of Southwest Florida
Catholic Charities of South Carolina, located in Georgetown, SC
Coalition of Immokalee Workers, Florida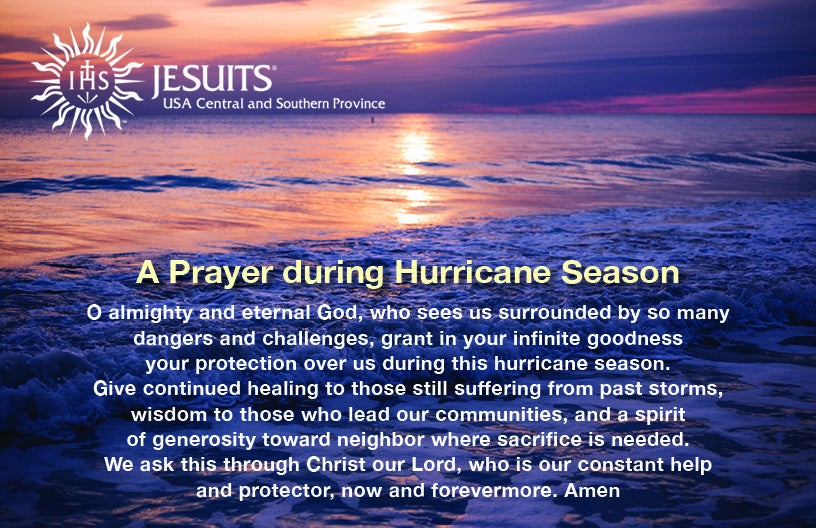 Destruction from Hurricane Fiona in the Caribbean (September 2022)
As of Monday, September 19, 2022, destruction from Hurricane Fiona has caused significant disasters and emergencies in Puerto Rico and the Dominican Republic, with Turks and Caicos in its path ahead. Members of the Georgetown community who can are encouraged to donate financially to one of these organizations, whether from our Jesuit community and the larger Catholic response network, or the wider community of local and international organizations providing disaster relief.
Puerto Rico Voluntary Organizations Active in Disaster
Refugees from the War in Ukraine
Fr. Karl Kiser, S.J., Provincial of the Midwest Jesuits has contacted Jesuit ministries on behalf of the Jesuits in Poland who need assistance for the Ukrainian refugees they are helping to enter their border. Fr. Tim Lannon, Midwest Province Treasurer, is working with the Polish Jesuits and representatives of Jesuit Refugee Services (JRS), so they can receive this valuable aid. One hundred percent of donations will be directed to the Polish Jesuits' relief efforts. If you are able to respond to Fr. Kiser's appeal to support the Jesuits' work with the Ukrainian refugees in Poland, please send your donations through the Midwest Jesuit Province at the following addresses:
Donations by check may be sent to the lockbox address:
Midwest Jesuits
PO Box 6713
Carol Stream, IL  60197-6713
Donations by ACH may be sent to the following address:
Bank name:  North Shore Bank
ABA #:  071925444
Account name: USA Midwest Province
Account #:  6350026241
Tornados in Kentucky and surrounding areas (December 2021)
A tornado outbreak tore through six states on December 10, 2021: Arkansas, Illinois, Kentucky, Mississippi, Missouri and Tennessee. Dozens of deaths have been reported as has widespread destruction on the path of record-breaking tornado system.
The New York Times compiled vetted local, on-the-ground organizations in the areas most deeply impacted by the destruction and loss of life. CSJ's value for supporting "place-based" initiatives informs our decision to uplift these organizations for those in the Hoya community who can donate towards immediate emergency supports and long-term reconstruction.
Blood Assurance, which collects blood donations across its locations in the South, is asking people to make appointments (new window) because of a "critical need" for supply in Tennessee and Kentucky.
For people in the area of Bowling Green, Ky., the Bowling Green Fire Department is seeking volunteers to help with recovery efforts. Send the department a Facebook message (new window) with your name, contact information and the type of assistance you can provide.
Brother's Brother Foundation, a Pittsburgh-based organization that provides disaster relief, is accepting donations (new window) so it can donate to food banks (new window) in Arkansas and Kentucky. It is also sending items to victims and emergency crews in affected areas.
Kentucky Baptist Convention, an organization of Baptist groups, is raising funds (new window) to help its teams (new window) on the ground in affected areas of the state.
Kentucky Branded, a clothing store in Lexington, is donating all of the proceeds from the sales of its "Pray for Kentucky" T-shirt (new window) to communities affected by the tornadoes. The shirt costs $20.
Taylor County Bank in Campbellsville, Ky., is accepting donations by mail (new window) to its fund for tornado victims. Its mailing address is P.O. Box 200 Campbellsville, Ky., 42719.
The Team Western Kentucky Tornado Relief Fund, created by Gov. Andy Beshear, is collecting donations (new window) for victims in the western portion of the state
Hurricane Ida (August 30)
Hurricane Ida's eye came ashore near Port Fourchon, LA on Sunday, August 29th with maximum sustained winds of 150 miles an hour, as a Category 4 storm. The storm has wreaked havoc and brought heavy rains, flooding, and "catastrophic transmission damage" to Louisiana's electrical system, leaving the city of New Orleans and over a million people throughout the state without power.
Catholic Charities of Acadiana is on the ground supporting those in Ida's wake; donate to their efforts at give.classy.org/disaster. If you know someone in need of help in the impacted areas, they should text DISASTER to 797979 or fill out the disaster recovery form.
World Central Kitchen, led by Chef José Andrés, tweeted that a team in New Orleans would activate its kitchen facilities in the city. He said they have supplies already on hand for more than 100,000 meals. Those who wish to help can donate to donate.wck.org/give.
Imagine Water Works has a Hurricane Idea Relief Fund that our partners in New Orleans recommend as a place-based, creative organization that centers folks with marginalized identities in conversations and action around a shared future living with water, working in an intersection of reducing risk from flooding, pollution, and natural hazards.
Supporting Afghan Allies
Lutheran Immigrant and Refugee Service (LIRS) is one of the organizations that is supporting Afghan allies who are refugees and asylum seekers. There are urgent volunteer needs in the Washington, DC area now. Monetary donations are preferred greatly, especially during a pandemic, over used goods. We all should learn about the social, economic, and political context of this moment. LIRS has excellent resources on the Special Immigrant Visa process, Afghanistan, and the stories of the people behind the headlines. You can take action for our Afghan allies and advocate through Jesuit Refugee Service.
The Veterans Association at Georgetown University is working with VFW Post 9274 in Falls Church, VA to help sort and organize donations for Afghan refugees. Visit their Afghan Refugee Support (new window) webpage which includes a sign up and additional resources for Georgetown community members to support. As the situation unfolds, we'll continue to update the page and re-pivot our efforts when necessary. Contact gusva@georgetown.edu with questions.

Protect Afghan Women
The Georgetown Institute for Women, Peace, and Security have long worked in solidarity with Afghan women. They are hearing from Afghan women that their homes are being invaded, their organizations are being looted, they are fearing for their lives and for their families. They are seeing girls being told they are not to go to school anymore, women being told that they can not leave their homes except with a guardian.
If we truly believe that women's rights are human rights, this is the moment to prove it. The women of Afghanistan urgently need our help, so visit protectafghanwomen.org (new window) and donate to help the evacuation of at-risk Afghan women, call your representatives to urge further action, and spread the word about the conditions in Afghanistan for women civil society and human rights leaders.
Natural Disaster Relief in Haiti
A powerful earthquake struck Haiti, compounding an intense humanitarian disaster from COVID-19 pandemic, food insecurity, and the insecure political situation. For those who wish to support through monetary donations, we alert you to the efforts of Catholic Relief Services and Mercy Corps. Our Jesuit friends at Magis Americas also alert us to the work of the Society of Jesus in Haiti through Foi et Joie (new window) and Service Jésuite aux Migrants that you can support through monetary donations.
Covid-19 Pandemic in India, Brazil, and other countries
The COVID-19 pandemic continues to have a devastating impact around the world. In recent days, the situation in India is particularly heartbreaking with cases and deaths soaring, and hospitals and medical facilities beyond capacity. Like India, the death toll in Brazil has exceeded 3,000 in the last 24 hours. For those who wish to support public COVID-19 health efforts through monetary donations, we alert you to these mutual aid efforts for India, as shared with us by Nikhil Arur (G'21) – bit.ly/MutualAidIndia. Georgetown also recommends Catholic Relief Services and GAVI, an organization working to provide equitable distribution of COVID-19 vaccines around the world. 
Violent Responses by the Military Coup in Myanmar
To learn more about the situation in Myanmar, visit progressivevoicemyanmar.org/coup-news-2021 and isupportmyanmar.com.
Wildfires in California, Washington, and Oregon
During the 2020 season, over 3 million acres have burned in California, hundreds of thousands of people have evacuated on the West Coast, and the staggering scale of loss is only beginning to be understood. (fire.ca.gov) Please consider supporting:
Hurricane Laura (August 27)
Hurricane Laura made landfall in Louisiana and eastern Texas as a category 4 storm which expectations to be downgraded to a tropical storm by evening. Please consider supporting:
Explosion in Beirut, Lebanon (August 4)
An explosion the city of Beirut, Lebanon killed over 200 people, injured 5,000, and incurred widespread damage. Many Hoyas call Beirut home and have organized as Hoyas for Lebanon to fundraise for St. George Hospital. Read this post by Dan Corrou, SJ who reports from the Jesuits and JRS staff in Beirut, and offer this Prayer for Beirut. Other Jesuit and Catholic organizations to support include:
Resources for Faculty, Staff, and Students
For those of our Hoya community affected by these disasters, we have many resources available.