Stay Engaged: Alumni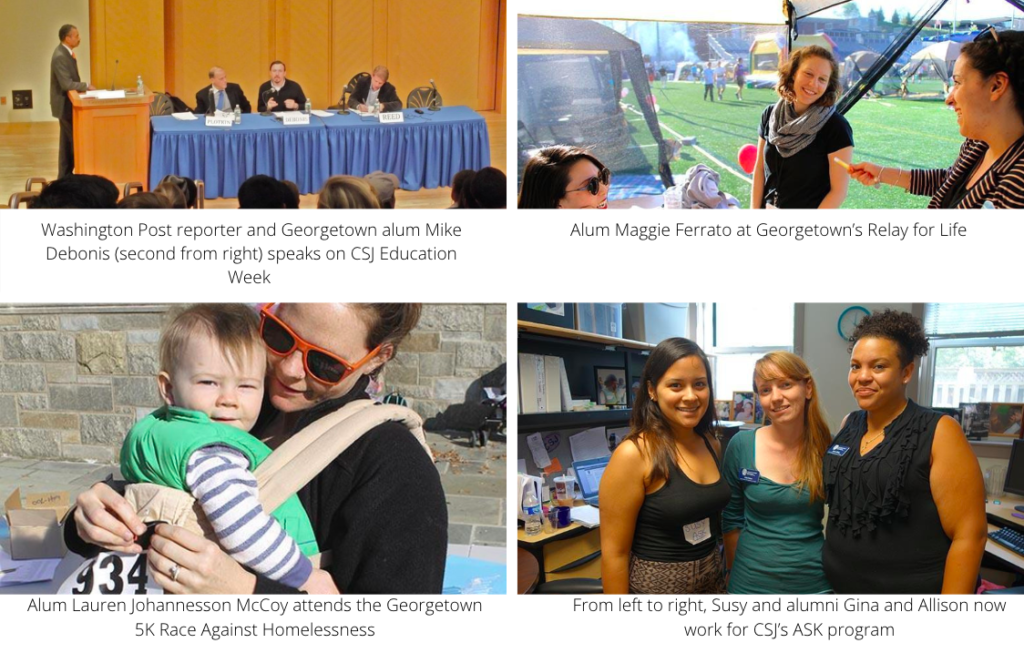 There are many ways to stay involved with the Center for Social Justice after graduation. Alumni volunteer for a day of service, serve as a speaker for a CSJ event, engage through social media, or visit CSJ during Reunion Weekend. CSJ seeks to remain connected to its rich and extensive alumni network.
You can make an online donation to the CSJ. Every gift to the CSJ goes a long way – thank you for your generosity! Contact CSJ's Executive Director, Dr. Andria Wisler, with any questions or for directions on how to direct your donation towards a particular CSJ program.
The Georgetown Assistance Program (GAP) through the Center for Social Justice is seeking your help with social justice and volunteer programs, when Georgetown students are studying for finals and away during breaks, in between semesters, and over summer. CSJ needs faculty, staff, and alumni assistance during this time so that the populations we work with can continue to receive services and remain engaged in impactful programming even when our student volunteers are away. CSJ has two opportunities available with a wide range of time options, seven days a week.
CSJ is thankful to be the recipient of books for its programs donated by alumni returning for Reunion Weekend. Alumni are encouraged to drop donations off at the Story Time at Alumni House event on Saturday, May 31st, 11:00AM – 12:30PM and learn more about CSJ's literacy programs. At this event, Mrs. Theresa DeGioia (C'89), wife of Georgetown President John J. DeGioia, will engage children of alumni with a story time. Children will then enjoy snacks and activities with CSJ team members.
Be a Speaker for CSJ
CSJ is eager to connect with local, national and global alumni who are working for social justice around the world. Alumni share their experiences, advice, stories and knowledge as guest speakers for classes, special events and training workshops. CSJ regularly hosts Georgetown alumni who are teachers, principals, community-based organizers, and public service leaders in a wide range of social justice-related fields to meet with and inspire current students. Alumni interested in serving Georgetown in this way are enouraged to contact CSJ's Executive Director, Dr. Andria Wisler.
Stay connected with fellow Hoyas committed to working for social justice in DC and around the world by connecting with the CSJ on LinkedIn.
Follow CSJ's daily events and notifications via Facebook. Enjoy photos, videos and posts about student, faculty and alumni community engagement work in DC, nationally and globally.
Share an Internship, Service Opportunity or Job in Social Justice
Alumni at organizations, think tanks, schools and companies with social justice missions and commitments are invited to share information regarding internship, service opportunity or job opportunities for current Georgetown students. Alumni can email posts with detailed information to csjweb@georgetown.edu. Posts will be shared with current students through listserv networks.
Complete the CSJ Alumni Interest Form
We love to hear from you! Complete the CSJ Alumni Interest form and tell us what you've been up to since graduation and how you'd like to connect with CSJ.