Global Social Justice Summer Research Symposium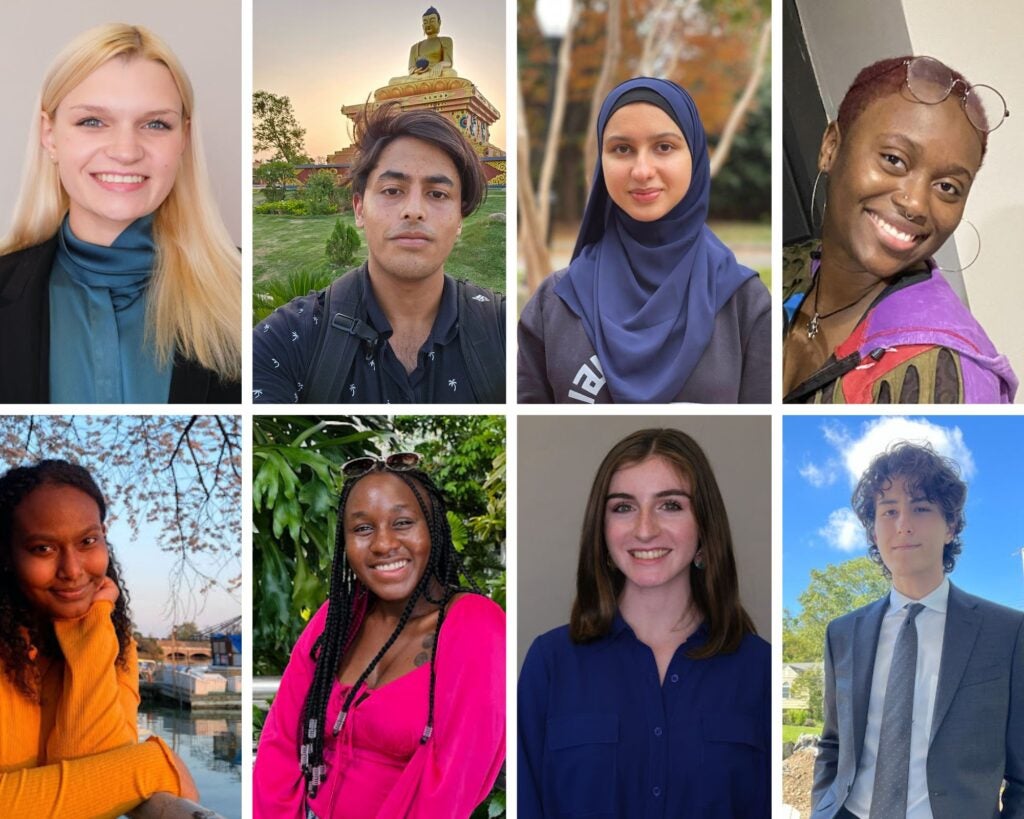 Our annual Global Social Justice Research Symposium, hosted by the Center for Social Justice Research, Teaching & Service (CSJ), the Berkley Center for Religion, Peace & World Affairs, and the Center for Research & Fellowships will take place on Friday, September 22, 2023 from 10:00am ET – 2:00pm ET in Arrupe Multipurpose Room in the Arrupe Residence Hall. Please attend in person or via Zoom. (RSVP below to receive the Zoom link.)
Our student researchers have conducted compelling, timely, interdisciplinary research. Their creativity and resilience has been remarkable. We are so proud of them and are eager for them to share with you where they are in the research process. 
Please address questions about this event to csjresearch@georgetown.edu.
10:00am: Welcome // Education & Social Justice Fellows, Panel #1
Pragyan Kumar Acharya (GU-Q'24): Education and Social Justice in Cagayan de Oro City (Philippines)
Molly May (CAS'25): Education and Social Justice at St. Martin de Porres (Belize)
Renée Vongai Mutare (GU-Q'24): Empowering Minds and Hearts: Project HEAL and the Pursuit of Social Justice (Belize)
11:15am: Student Research Panel #2
Nandi Dube (CAS'24), Royden B. Davis Fellow: Ghanaian Mental Health Matters: A community based exploration of stigma amongst providers and consumers of mental health care in Accra, Ghana
Jasmine Alas-Castillo (SFS'25) and Daniella Arevalo (CAS'25), Lisa J. Raines Fellows: Bridging the spaces between writing centers and low-income, first generation, and working class students: Tutor perspectives on hiring, training, and tutoring
Joshua Gavsie (CAS'24), Provost's Distinguished Undergraduate Research Fellow: Beyond kind words and core values: An analysis of the consistency between corporate statements on COVID-19 and their labor policies
12:30pm: Lunch for Registered Attendees
1:00pm: Student Research Panel #3
Lisa Kennedy (CAS'25), Kalorama, Laidlaw, and Royden B. Davis Fellow: The Forest County Potawatomi's gamble on gaming: A historical-legal analysis of tribal gaming as an engine of political and cultural sovereignty
Ikram Muhammedsani (SoH'25) and Janeeta Shaukat (SoH'24), Lisa J. Raines Fellows: Key factors influencing student experience in government schools in Azad Kashmir, Pakistan: A qualitative study of teacher and parent perspectives
Iman Ibrahim (SoH'24), David Andretta Fellow: Medicine and migration: Understanding operational and social challenges to service delivery and healthcare decision-making for Syrians in Turkey
This event will be photographed in-person and recorded via Zoom. We may use the photographs for Georgetown University communications purposes. To request accommodations related to a disability for any event below, we kindly ask that you fill out this Google Form or contact Lucia.Cappelloni@georgetown.edu. A good faith effort will be made to meet requests made with 5 business days notice.