Justice Graduate Interns
Alex Grant
Educational Equity Justice Graduate Intern
Alex Grant is a graduate student in the Epidemiology program at Georgetown. Alex is an international student from Jamaica that recently graduated from Nova Southeastern University in Fort Lauderdale, Florida with a degree in Biology and a minor in Public Health. There, he gained a passion for health equity and advocacy making his career goal aiding in reducing health disparities in society through research and policy. Also, during his time at Nova Southeastern University, Alex was a student advocate serving on the student government as the International Senator where he raised awareness on pertinent issues for international students. Outside of academics, Alex loves traveling, exploring new places, and having a good time with his friends.
Naho Kimura
Communications and Outreach Justice Graduate Intern
Naho Kimura is a graduate student in the Masters of Conflict Resolution program at Georgetown University and is pursuing the Certificate in Refugee, Migration and Humanitarian Emergencies. She earned her bachelor's degree in anthropology and sociology from Sophia University in Tokyo, Japan. During her undergraduate years, she conducted research on Tokyo Immigration Detention Center, interviewing asylum seekers and refugees who had fled to Japan. To deliver their voices to a wider audience, she inaugurated a bilingual website called "Refugee Voices Japan," documenting their persecutions stories and struggles. In addition to her undergraduate research, she interned at the International Committee of the Red Cross and volunteered for an Austria-based NGO assisting Ukrainian refugees, especially those with physical disabilities. In her free time, she enjoys cycling, reading outside, and watching movies from the 70s and 80s.
Huong (Vaneessa) Le
Racial Justice Initiatives Justice Graduate Intern
Vanessa is a graduate student in the M.S. Foreign Service program at Georgetown. Born and raised in Vietnam, Vanessa takes interest in international affairs and sustainable development. She graduated from UC San Diego with a BA in International Studies-Sociology and minors in Environmental Studies and Music. Vanessa spent her gap year working in transportation electrification policy in San Diego. Understanding sustainable development cannot exist without a decolonization framework, Vanessa sets her goal to integrate social justice into her academic and professional work. In her free time, Vanessa enjoys picnicking with a good book and making her 120th Spotify playlist.
Sean Stielow
DC Reads/DC STEM Justice Graduate Intern
Sean is a graduate student in the Master of Science in Addiction Policy and Practice program at Georgetown University. Originally from South Jersey, Sean graduated from Johns Hopkins University with a double major in Neuroscience and Spanish. During his undergraduate career, he discovered a passion for health and educational equity. After he graduated from JHU, Sean joined Teach For America and returned to New Jersey to teach middle school science in Camden. He pursued a Master of Arts in Teaching and Secondary Science at the Relay Graduate School of Education. As the DC Reads/DC Stem Justice Graduate Intern, Sean hopes to continue to foster his passion for educational equity by supporting elementary school students in the DC community. In his free time, you can find him trying to meet his Goodreads Reading Challenge goal, exercising, trying new foods, taking pictures, or watching international TV shows and movies.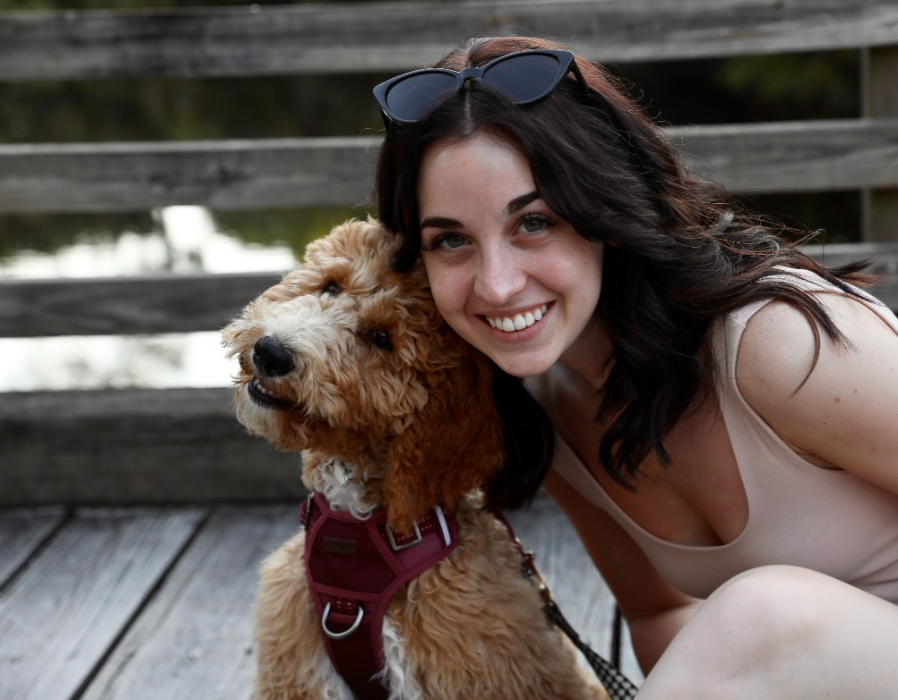 Hailey Rastrelli
Operations Graduate Intern
Hailey is a Master of Arts in Liberal Studies student working on a certificate with the Georgetown Institute for Women, Peace, and Security. Although hailing from South Florida, Hailey has spent most of her traveling the world, not only for pleasure, but to support international businesses, and conduct research for student lectures. Post-education, Hailey hopes to be an attorney in the international human rights field, one perhaps start her own or fund a grass-roots non-profit in the future. But for now, when she's not studying, you will find her spending all her time with her dog-daughter, Justice… cooking new things and making her friends try them like an Italian grandmother, practicing sign-language, and helping other young people grow their businesses or passion projects.
Anaïs Martin
Immersion Justice Graduate Intern
Anaïs Martin is graduate student in Conflict Resolution at the Graduate School of Arts and Sciences. Anaïs is also a recent graduate of the MSc in Gender, Peace, and Security at the London School of Economics and holds a BA in Politics from King's College London. Since 2019, she has worked alongside peacebuilding NGOs locally (in the United Kingdom) and internationally. Anaïs was born in San Jose (Costa Rica) but grew up in Madrid (Spain). She is fluent in French, Spanish and English and hopes to learn Arabic someday! You can find her sewing, reading or watering her plants when she isn't busy perfecting and decorating her reading corner.
Anuja Pathak
Immigration Justice Graduate Intern
Anuja is a graduate student in Conflict Resolution from the United Kingdom. Before moving to the USA, she worked with human rights defenders in Guatemala and in the Middle East and North Africa. She is especially interested in supporting grassroots actors in their peacebuilding efforts. Outside of university, Anuja loves wild swimming and picnics.
Anya Bégué
HOME Program
Anya Bégué is pursuing a dual-degree here at Georgetown. She recently completed her undergraduate studies in Government and Arabic last December and is now finishing her Master's in American Government. Anya has been working with HOME for several years now, first as an intern and then as a Program Coordinator. In this capacity, Anya co-led the Advocacy team, where she coordinated partnerships with local organizations and politicians, developed PR initiatives, and guided staff as they conducted research. Beyond the CSJ, Anya now interns at the Office of Management and Budget within the Executive Office of the President. She also serves as an Executive Producer of a student-led global affairs media platform called Eutopya. In her free time, Anya loves to oil paint (even though she is very much a beginner)! She looks forward to practicing more in Georgetown's lovely art studio.