Social Justice Send-Off
The Social Justice Send-Off is an annual commencement event that celebrates students who have engaged in social justice work and public/community service work during their time at Georgetown. It also recognizes students who plan to pursue social justice work and public/community service after graduation. Family, friends, faculty, staff and community partners are invited to celebrate graduates' contributions to Georgetown and the larger community.
The Send-Off is Friday, May 19 at 10:00AM ET in the ICC Auditorium. The Ceremony will be followed by a community gathering in the tent at the Poulton Hall courtyard (corner of 37th and P Streets NW). All graduates are invited to participate; graduates' families and friends and University community members are welcome to attend.
The Registration Form for Class of 2023 Hoyas is open!
The hallmark of the Send-Off has always been our Hoya graduates sharing from the microphone on the ICC auditorium stage about their social justice commitments and their post-graduate plans (if they wish).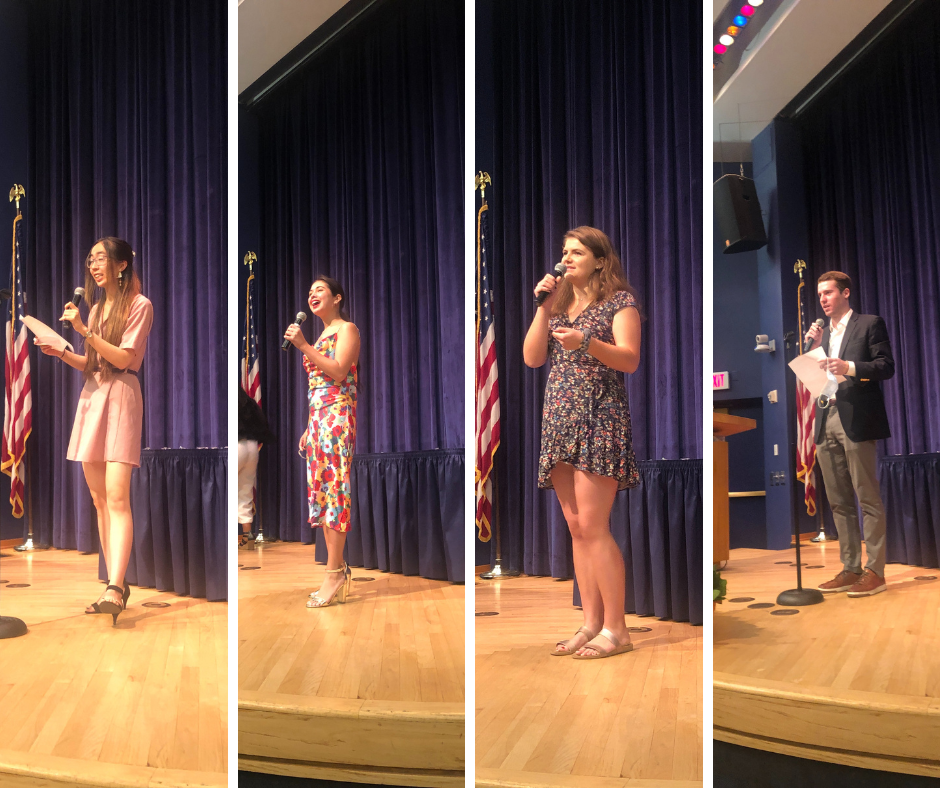 The 2023 Social Justice Send Off keynote speaker is Paula Fitzgerald, Esq., Executive Director of Ayuda and Georgetown University's John Thompson Jr. Legacy of a Dream awardee. Paula will be introduced by Class of 2023 graduate, Mirka Sosa (CAS'23). Dr. Ryann Craig is introducing the ceremony and Jo Cecilia from Mission & Ministry is offering the opening blessing. Chaplain in Residence, Iman Samyeh, will close the ceremony with a prayer to send off our graduates.
The ceremony and reception are collaboratively planned and hosted by the Center for Social Justice, Research, Teaching & Service; the Kalmanovitz Initiative for Labor and the Working Poor; the Center for Multicultural Equity and Access; the Office of Mission and Ministry; Initiative for Catholic Social Thought and Public Life; Cawley Career Education Center; Berkley Center for Religion, Peace, & World Affairs; Capitol Applied Learning Lab; and the Office of Government Relations and Community Engagement (GRACE). Please contact csj@georgetown.edu with any questions.
Previous Social Justice Send-Off Keynote Speakers
2022
Khari Brown
CEO, Capital Partners for Education
2021 (virtual)
Christopher Bradshaw
Executive Director, Dreaming Out Loud
2020 (virtual)
Sandra Jackson
Executive Director, House of Ruth
2019
Hawah Kasat
Founder and Executive Director, One Common Unity
2018
Steve Park
Executive Director, Little Lights Urban Ministries
2017
Abel Núñez
Executive Director, Central American Resource Center (CARECEN)
2016
Nakeisha Neal Jones (G'02)
Executive Director, DC Public Allies
2015
George Jones
Chief Executive Director, Bread for the City
2014
Lecester Johnson
Chief Executive Officer, Academy of Hope Adult Public Charter School
2013
Mary Brown
Founder and former Executive Director, Life Pieces to Materpieces