Social Justice Send-Off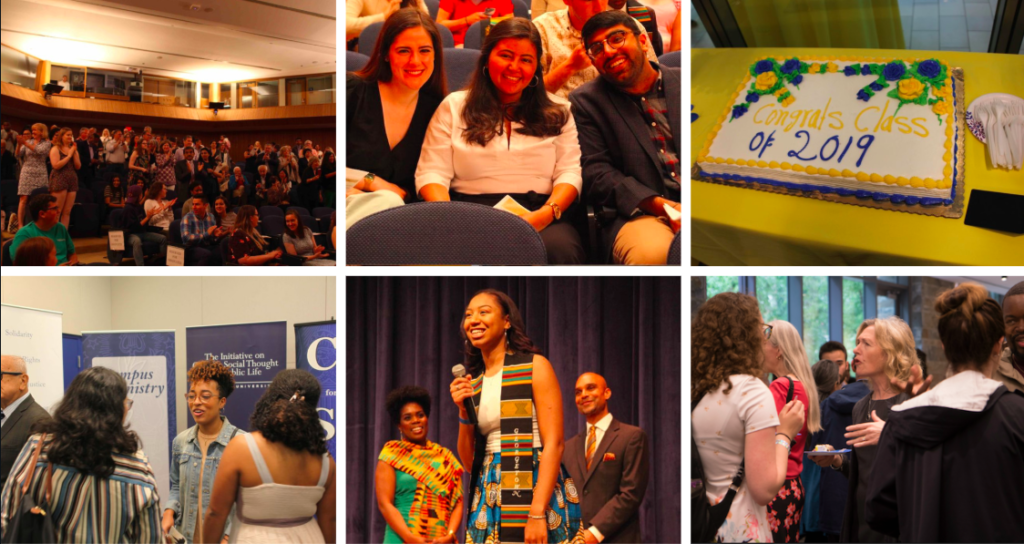 The Social Justice Send-Off is an annual commencement event that celebrates students who have engaged in social justice work and public/community service work during their time at Georgetown. It also recognizes students who plan to pursue social justice work and public/community service after graduation. Family, friends, faculty, staff and community partners are invited to celebrate graduates' contributions to Georgetown and the larger community.
Hoyas of the Class of 2021,
You all received an email in April 2021 about participating in the Social Justice Send Off. Lost in your Inbox? Here it is! The email asks you to sign up on this Google Form. Don't hesitate to reach out if you have any questions – drop us an email at dcmission@georgetown.edu.
The Send-Off will Live Premiered on Facebook at 10:00am EST on May 21, 2021, the Friday morning of Commencement weekend. The virtual event is being collaboratively planned and hosted by the Center for Social Justice, Kalmanovitz Initiative for Labor and the Working Poor, Division of Student Affairs, Center for Multicultural Equity and Access, Office of Mission and Ministry, Initiative for Catholic Social Thought and Public Life, Cawley Career Education Center, and Berkley Center for Religion, Peace, & World Affairs.
Previous Social Justice Send-Off Keynote Speakers
2020 (virtual)
Sandra Jackson
Executive Director, House of Ruth
2019
Hawah Kasat
Founder and Executive Director, One Common Unity
2018
Steve Park
Executive Director, Little Lights Urban Ministries
2017
Abel Núñez
Executive Director, CARECEN
2016
Nakeisha Neal Jones (G'02)
Executive Director, DC Public Allies
2015
George Jones
Chief Executive Director, Bread for the City
2014
Lecester Johnson
Chief Executive Officer of Academy of Hope Adult Public Charter School
2013
Mary Brown
Founder and former Executive Director, Life Pieces to Materpieces