CSJ Vans
Get off the Hilltop!
CSJ uses its 18 vans to get Georgetown students, faculty and staff to community-based partners around the DC-MD-VA area every day. Vans can also be requested by any department, program or unit that has access to benefits. CSJ vans are ideal for a class trip, student organization service project, or residence hall outing.
We recommend that you submit a request at least two weeks prior to your requested date.
Morning and weekend van requests are more likely to be approved as most of CSJ's van needs are weekday afternoons and evenings.
During peak hours, no more than five vans will be assigned to a group.
There are additional fines for not adhering to van policies.
Driver Authorization Process
The authorization process includes completing an online driving course. You will not need to renew your authorization or training annually. The MVR and online course only need to be completed once.
To take the online training:
Go to the Georgetown University Training Portal.
Log in using your Georgetown University NetID and password. Once you've entered your credentials, you will be taken to the University's Training Portal.
Once in the Training Portal, under "My Courses," choose "Driver Safety."
Once on the "Driver Safety" page, under the section "Driver Safety," click on "Launch." This will launch the online Driver Safety Course.
The Driver Safety course will take 30 to 45 minutes to complete.
Once completed, download your Certificate and email it to riskmanagement@georgetown.edu.
In your email, please name the specific department, program, or course that you will be driving for.
Once you have submitted your Certificate, go online to obtain an MVR check and complete and submit this form: Driver Authorization Form.
Once you have filled out the online form and taken the online course allow for 1-2 days turn around. You will then receive an email notifying you that you are authorized to drive. 
If you would like to confirm if a driver has been authorized, please contact your department administrator or call our Risk Management department at 202.687.6622.
If you are not sure if you are currently authorized to drive a University vehicle, contact csjvans@georgetown.edu with your full name and netID and we can confirm your authorization status.
How to Request a Van
Select the van request form.
Log into the van request form with your NetID and password.
Fill out form and click submit. Note: To complete the form, you will need your unit's GMS Work tags.
Your reservation will need to be authorized by your staff or faculty advisor who has cost center authorization. Your staff or faculty advisor will receive an email requesting authorization.
You will receive a confirmation of your request in 5 business days.
Van Location in Leavey Parking Garage
Find written directions to Leavey Parking Garage (P3 Leavey).
Find a map of barrier-free routes across campus.
Map with the Leavey Parking Garage location.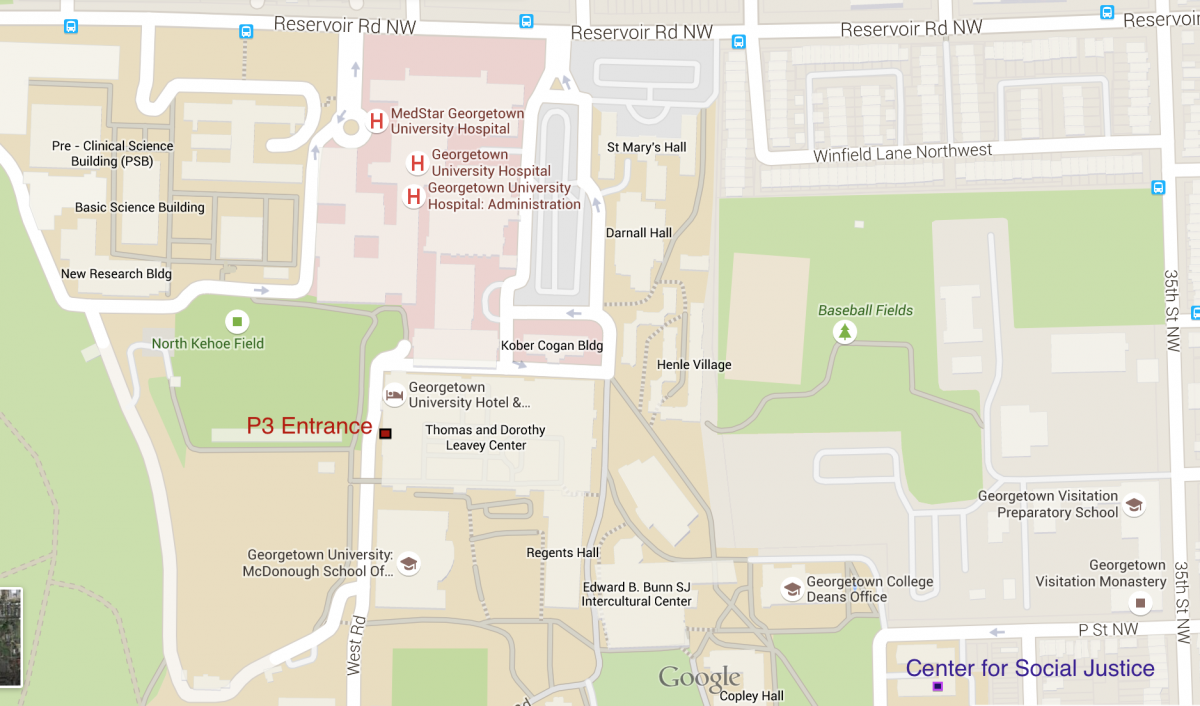 Please Advise: West Road access is closed due to construction Fall Semester (2023).
Questions? Need more information?
Please contact csjvans@georgetown.edu.
Find a cheat sheet on responding to van problems. 
Need a quick refresher on CSJ van procedures and protocol? Click below to watch CSJ's short Van Tutorial video!
How do I…
…unlock the van steering wheel? 
…address seatbelt issues? 
…turn on/off the headlights and dome lights? 
…know which key to use to start the van? 
…start the van correctly? 
CSJ Vans InfoGraphics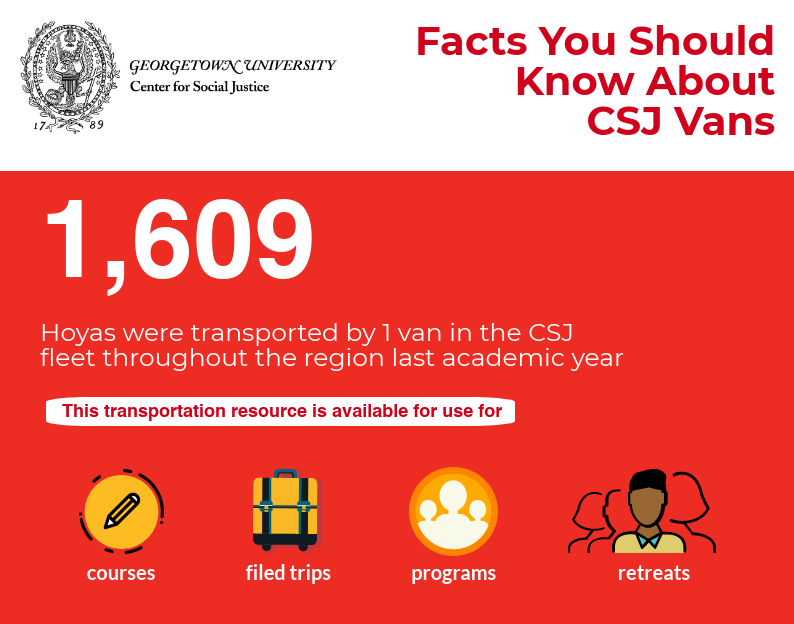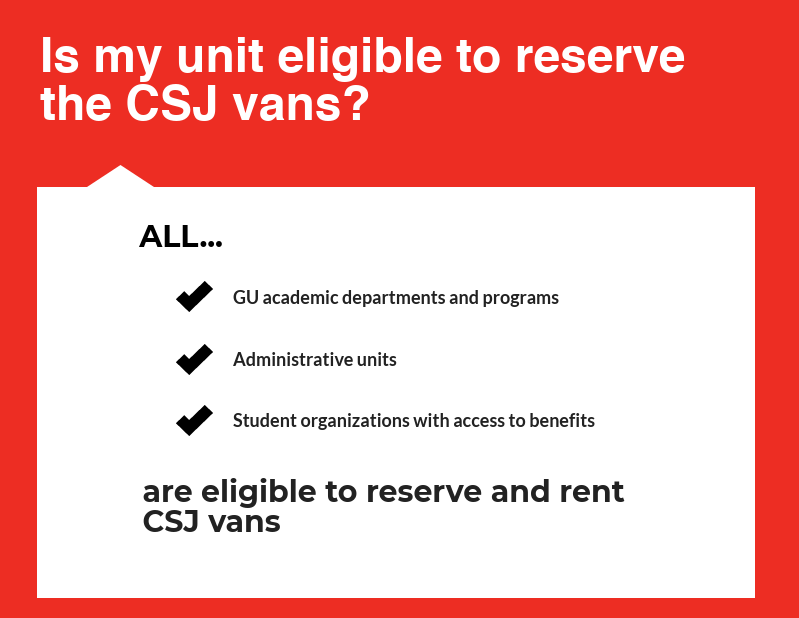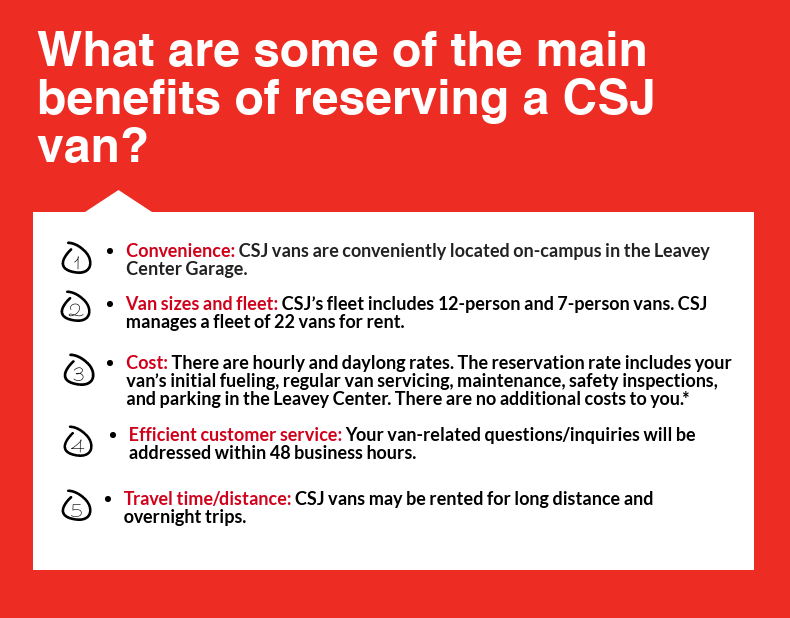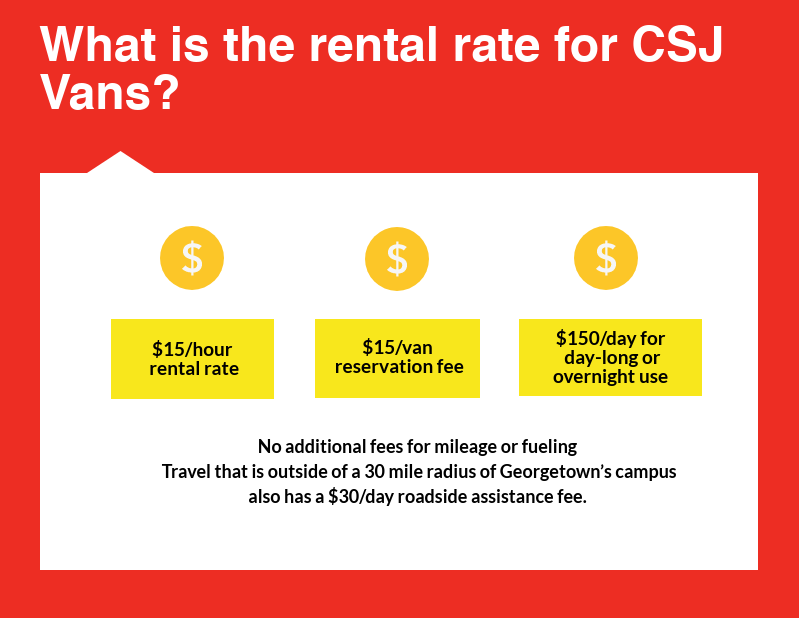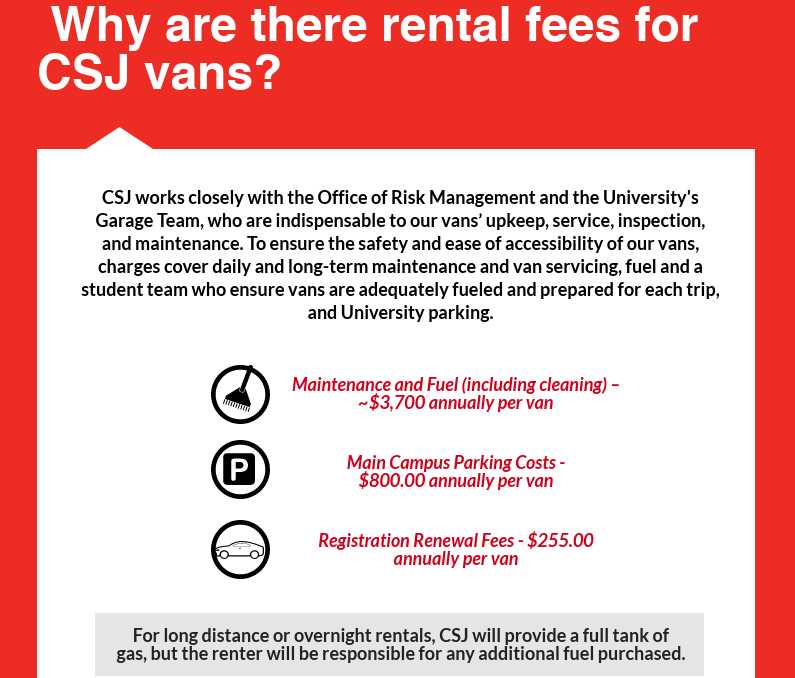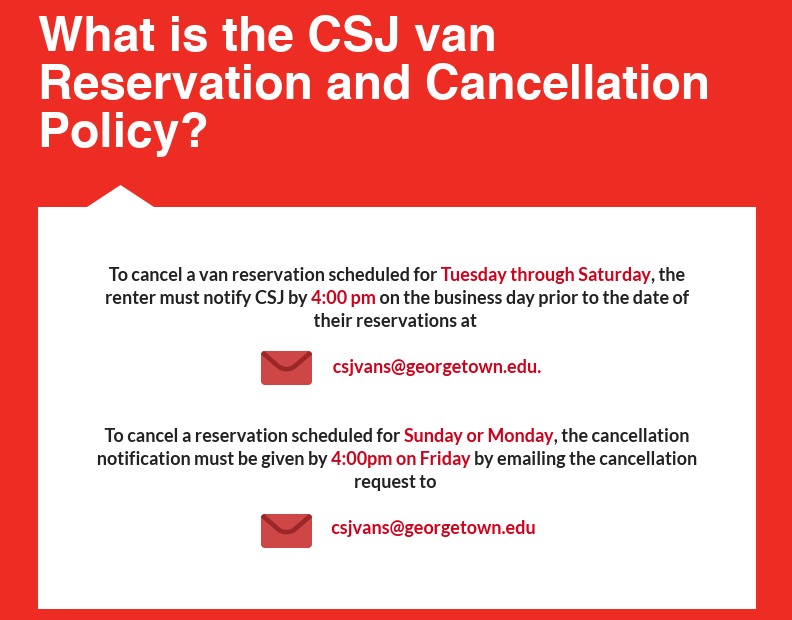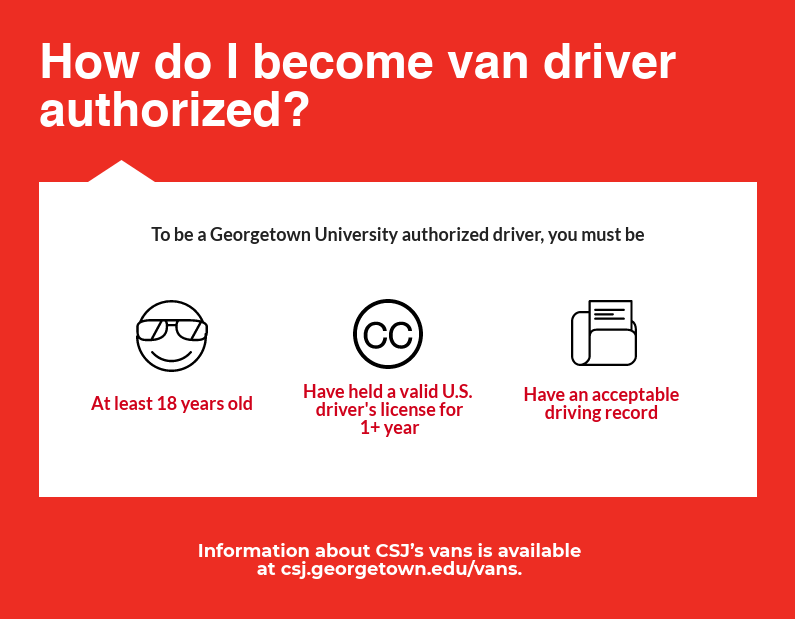 Facts you should know about CSJ Vans:
1,609 Hoyas were transported by 1 van in the CSJ fleet throughout the region last academic year. This transportation resource is available for use for courses, field trips, program and retreats. 
Questions and Answers: 
Is my unit eligible to reserve the CSJ vans? All GU academic departments and programs, administrative units, and student organizations with access to benefits are eligible to reserve and rent CSJ Vans.
What are some of the main benefits of reserving a CSJ Van? Convenience: CSJ Vans is conveniently located on-campus in the P3 Leavey Center Garage. Van sizes and fleet: CSJ's fleet includes 12-person and 7-person vans. CSJ manages a fleet of 22 vans for rent. Cost: There are hourly and daylong rates. The reservation rate includes your van's initial fueling, regular van servicing, maintenance, safety inspections, and parking in the Leavey Parking Garage. There are no additional costs to you. Efficient customer service: Your van-related questions/inquiries will be addressed within 48 business hours. Travel time/ distance: CSJ Vans may be rented for extended overnight trips.
What is the rental rate for CSJ Vans? $15/hour rental rate plus a $15/van reservation fee. $150/day for day-long or overnight use plus a $15/van reservation fee. No additional fees for mileage or fueling. *Travel outside a 30-mile radius of Georgetown's campus has a $ 25.00/day/per van roadside assistance fee. *The renter is responsible for any additional fuel purchased for long-distance or overnight rentals per our policies and procedures (see above).
Why are there rental fees for CSJ vans? CSJ works closely with the Office of Risk Management and the University's Garage Team, indispensable to our vans' upkeep, service, inspection, and maintenance. To ensure the safety and ease of accessibility of our vans, charges cover daily and long-term maintenance and van servicing, fuel and a student team who ensure vans are adequately fueled and prepared for each trip, and University parking. Maintenance and Fuel (including cleaning)- $3,700 annually per van. Main Campus Parking Costs- $800.00 annually per van. Registration Renewal Fees – $255.00 annually per van.
What is the CSJ van reservation and cancellation policy? To cancel a van reservation scheduled for Tuesday through Saturday, the renter must notify CSJ by 4:00 pm on the business day before the date of their reservation at csjvans@georgetown.edu. To cancel a van reservation scheduled for Sunday or Monday, the cancellation notification must be given by 4:00 p.m. on Friday by emailing the cancellation request to csjvans@georgetown.edu.
How do I become an authorized van driver? To be a Georgetown University authorized driver, you must be at least 18 years old, have held a valid U.S. driver's license for 1+ years, and have an acceptable driving record.