Research
Research is one of the three pillars of CSJ's mission. The role of research in the creation and sustaining of a more socially just, equitable and humane world cannot be undervalued. Social justice research has the potential, through its direct application, to aid in resolving concrete social problems, organizing social change efforts, influencing public policy, meeting community-based needs, and transforming institutions. In collaboration with its partners, CSJ offers several avenues through which students can enact their social justice commitment through research.
Watch videos of student research presentations on our YouTube playlist.
The David F. Andretta (COL '99, GUMC '04) Summer Research Fellowship awards a rising senior with $5,000 to conduct 8 weeks of research on a social justice issue.
This Berkley Center fellowship, supported by the CSJ, provides several students with summer research fellowships to travel abroad for an in-depth examinations of innovative initiatives, with a focus on the work of Jesuit secondary and post-secondary institutions. Under faculty supervision, the students gather information through interviews, analyze best practices, and share their reports and conclusions with a wider global audience.
CSJ Student Academic Assistants (SAAs) support social justice, community-engaged, and community-based learning courses, research, and scholarly initiatives taught and led by CSJ-affiliated faculty.
Through the Maeve McKean Global Health Award, the undergraduate McKean fellow spends their junior year on campus working to advance a faculty member's research and is awarded $6,500 to conduct their own research anywhere in the world the summer before their senior year. The award is jointly administered by the Global Health Institute and the Center for Social Justice Research, Teaching, and Service at Georgetown University.
Research at CSJ
In 2015-2016, CSJ's former Director of Research and Evaluation, Dr. Diana Guelespe, led a research team comprised of undergraduate student research assistants and staff members of partnering community-based organizations to explore the experiences immigrants have as they go through the process of obtaining the license. Their research surfaced immigrants' many challenges thus they were able to recommend ways in which community organizations, residents, and city officials can increase the LPDL  accessibility. Learn more information, and read the final report.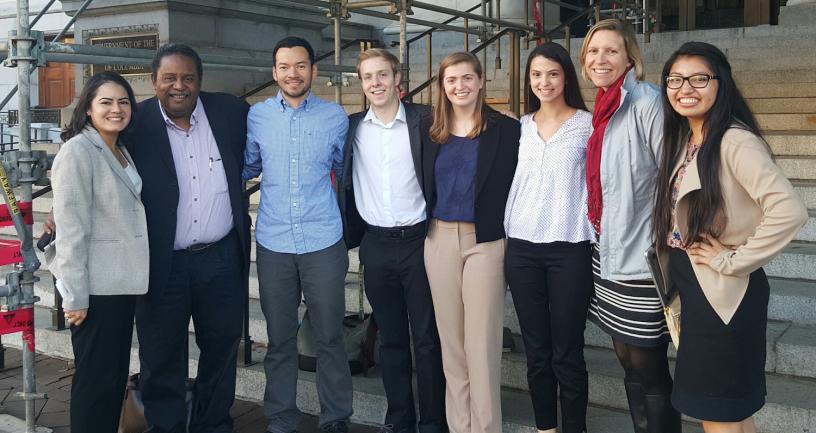 In collaboration with the Berkley Center for Religion, Peace & World Affairs, the Georgetown Office of Fellowships, Awards & Resources (GOFAR), the Georgetown Undergraduate Research Opportunities Program (GUROP), and the Vice President for Global Engagement, CSJ hosts an annual symposium  to feature summer social justice-based research from undergraduate fellows and recent alumni. Research is presented by the Education & Social Justice Summer Research Fellows, the David F. Andretta Summer Research Fellow, a Raines Fellow, a Fulbright Fellow, and more. This event is held annually in mid-September.