CSJ Team
If you are unsure exactly who to contact with your inquiry or request, please reach out to CSJ's Executive Director, Andria. Wisler@georgetown.edu.
For current job openings, please visit: csj.georgetown.edu/about/work-at-the-csj.
Blaythe Ayala
Assistant Director, Student Organizations and Leadership
Send a message
Blaythe Ayala serves as the Assistant Director, Student Organizations and Leadership at the Center for Social Justice. In her role, Blaythe is responsible for connecting Georgetown students to service and social justice opportunities through student organizations. She also oversees the work and leadership development of CSJ's Advisory Board for Student Organizations (ABSO) and student organization leaders. Originally from Los Angeles, California, Blaythe received her B.A. in Political Science, B.A. in Social Welfare, and B.A. in Spanish from the University of California, Berkeley. After graduation, she worked as a program analyst for the U.S. Department of Housing and Urban Development in the Office of Policy Development and Research, where she researched educational supportive services for youth in public housing. While working, Blaythe earned her M.Ed in Education Leadership and Policy, focusing on serving the whole person through cross-sector collaboration at the federal level.

Melissa Bernard (G'20)
Assistant Director, Mission Integration
Send a message
Schedule an appointment
Contact me about: FOCI, CSJ Summer High School programs, GU's L'Arche partnership, post-graduate service
Melissa serves as the Assistant Director, Mission Integration at the Center for Social Justice. In this role, Melissa works to expand the University-wide relationship with L'Arche Greater Washington DC, and steward other mission-based partnerships for the CSJ. Melissa supports students in understanding GU's Jesuit mission in their transitions to and from Georgetown. This transitions portfolio includes supporting CSJ's pre-orientation program known as FOCI, the Options Series, and students discerning how to incorporate Jesuit values into their post-graduate futures. Melissa has a background in education and human development, having received her BA from Boston College's Lynch School of Education. After graduating, she served with the Jesuit Volunteer Corps for a year in Washington, DC, as the Homelessness Outreach Programs Coordinator for the CSJ and Georgetown's Campus Ministry. Melissa is a graduate of the MPS in Higher Education Administration program at Georgetown University.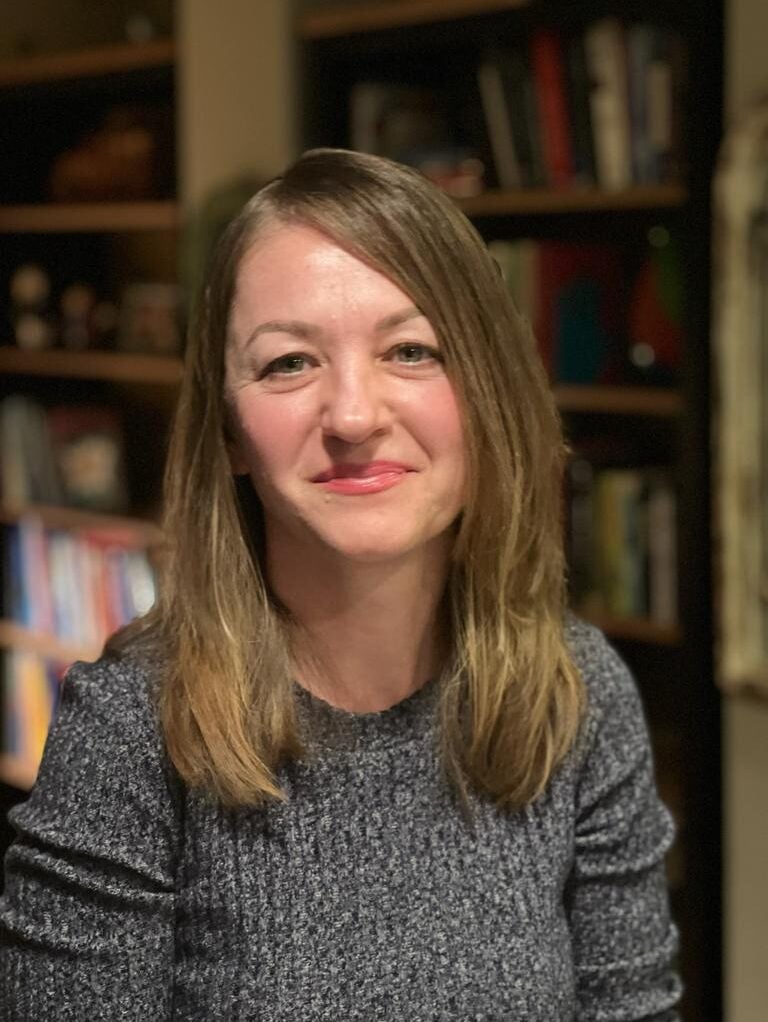 Lucia Cappelloni
Operations Manager
Send a message
Schedule an appointment
Lucia transitioned to the role of Operations Manager in February 2020. She originally joined the Center for Social Justice team as a Payroll and Van Administrator in October 2013. In that role, she ensured the efficient and timely payment of the approximately 300 student employees involved in CSJ's community-based service activities. She also oversaw student van coordinators, managed monthly billing processes, and verified that vehicles are in compliance with state, leasing agent, and Georgetown policies and requirements. Now Lucia has broad administrative oversight of CSJ's hiring, equipment rentals, space usage. She also supervises the Center Operations Interns (COIs). Lucia is originally from the Republic of Moldova and graduated with a degree in Romanian and English Literature from the University of Bucharest. Lucia began her career working for the US Peace Corps in Moldova, providing administrative and interpreting support to volunteers and Peace Corps staff. After immigrating to the United States, Lucia provided comprehensive administrative support in the private sector for nine years.
Lionell Daggs III
Associate Director, Racial Justice Initiatives
Send a message
Lionell Daggs III serves as the inaugural Associate Director of Racial Justice Initiatives for the Center for Social Justice. Prior to joining the CSJ team, Lionell served as one the Assistant Directors of the Cultural Centers at the University of San Francisco (USF) where his work centered on supporting systematically marginalized student populations, with a primary focus on students of color, women, and LGBTQ students. Lionell also previously worked at an education non-profit organization California School-Age Consortium, which builds professional networks that provide training, leadership development and advocacy for out-of-school time professionals.
Lionell earned his bachelor's degree in Psychology with a minor in Child and Youth Studies and a Master of Arts in Organization and Leadership at USF. His research interests include black feminism, feminist leadership, and social movements. His student affairs philosophy is oriented toward creating systemic change by utilizing his positionality and knowledge to uplift and support those around him and within his community. As a first-generation college student, he believes that all students with the right support and guidance can successfully navigate the higher education landscape.
Noelle Gipson
Assistant Director, Educational Equity Programs; Program Director, DC Reads and DC STEM
Send a message
Noelle Gipson joined the Center for Social Justice team as the Assistant Director for Educational Equity Programs in October 2018. In this role, Noelle directly supervises three tutoring and mentoring programs: DC Reads, DC STEM, and the Summer Institute for Teaching and Learning (SITL). In addition, she supervises and supports the Georgetown Jumpstart Site Manager to implement the AmeriCorps PreK literacy program. Noelle received a BA in English Arts with a minor in Leadership Studies from Hampton University, an MA in English Education from Teachers College, Columbia University and a Reading Specialist certification from Xavier University of Louisiana. Her commitment to literacy, social justice, and urban education led her to serve as a 6th grade English teacher in New York City and K-4th grade reading interventionist in New Orleans. In addition, Noelle has implemented young adult leadership development programs as the Founding Trainer for The Posse Foundation, Inc. in New Orleans where she facilitated workshops about various cross-cultural topics. Prior to joining the CSJ team, Noelle was a program manager for The Literacy Lab where she supervised AmeriCorps PreK literacy tutors who served in DC Public Schools.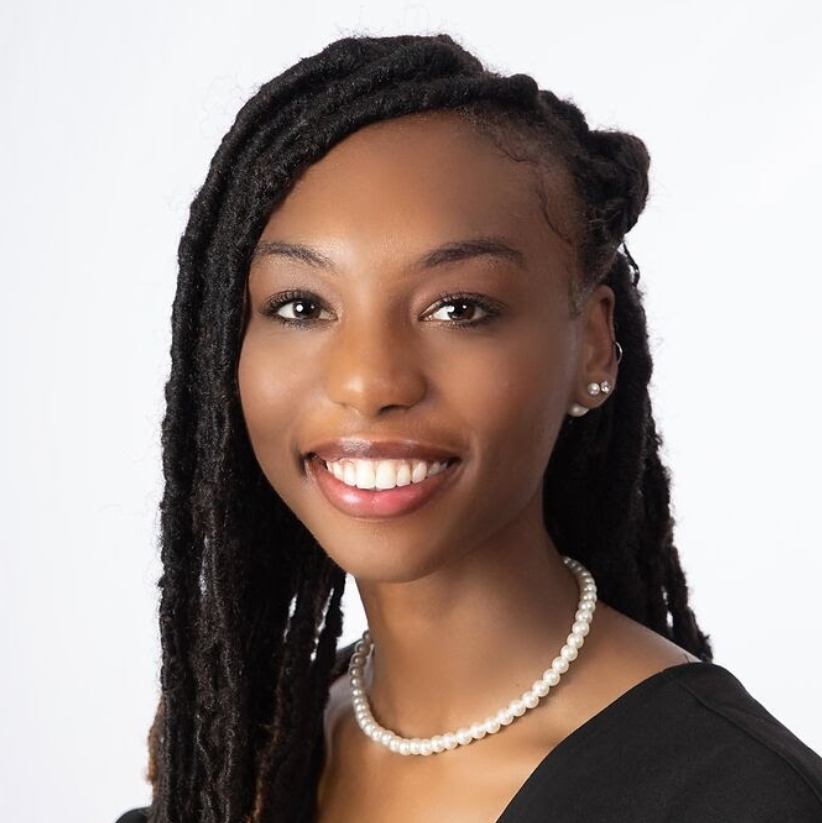 LaMaria Glass (G'22)
Interim Program Manager, After School Kids Program
Send a message
LaMaria Glass earned her Master's in Educational Transformation at Georgetown University, concentrating in Advocacy and Policy. She graduated from the University of Virginia with a Bachelor of Science in Education, double majoring in Sociology and Youth & Social Innovation. LaMaria is passionate about youth and advocacy, and her ultimate goal is to advocate for students through education or for youth involved in the juvenile justice system. LaMaria has been involved with a number of organizations whose missions ranged from philanthropy to advocacy to centering first-generation college-bound students. LaMaria stays involved in her community, by working with youth or through her service with the Danville Alumnae Chapter of Delta Sigma Theta Sorority, Incorporated. Her leisure time is spent singing, reading, exercising, playing basketball, and enjoying family and friends.
Kyra Hanlon-Batiste (SFS'16, G'22)
Assistant Director, Immersion Programs; Program Director, Alternative Breaks Program
Send a message
Kyra Hanlon is the Assistant Director, Immersion Programs at the Center for Social Justice. In this role, Kyra is responsible for managing 20+ local and global immersion experiences, overseeing student leadership development, and coordinating with campus partners through CSJ's Alternative Breaks Program. Kyra's portfolio also includes CSJ's commitments to ethical global service learning through support of CSJ-funded students working outside of the United States, CSJ's wrap-around course UNXD 030 Intersections of Social Justice, and The 100 Projects for Peace award. Originally from the Philadelphia area, Kyra received her BS in Culture and Politics from Georgetown University in 2016 before moving to Memphis, Tennessee. While in Memphis, Kyra served as an AmeriCorps member with Impact America and then transitioned to serve as Impact's Tennessee State Co-Director, managing AmeriCorps programming for vision screenings, VITA tax sites, and documentary filmmaking. As an undergraduate, Kyra worked as a Teaching Assistant for CSJ's Intersections course and as a Center Operations Intern.

Jessica Lee

(G'22)

Assistant Director, Immigrant Justice Initiatives; Program Director, DC Schools Project
Send a message
Schedule an appointment

Jessica Lee joined CSJ's team as the DC Schools Project Program Director in July 2013 and transitioned to her current role in February 2020. Jessica is responsible for the oversight of the DC Schools Project which delivers English literacy skills support to children, youth, and adults of low-income, immigrant backgrounds in the DC area, focusing on providing direct support and advocacy for newcomer youth and their families through emergency family planning for deportation and broader policy advocacy work in coalition with local immigrant justice organizations. Jessica also serves as a lead facilitator on the Racial Justice Working Group for the CSJ team and on the Undocumented Students Advisory Task Force to support undocumented students on campus. Jessica is from Portland, Oregon, where she attended Lewis and Clark College and earned a BA in International Affairs and Foreign Languages. She attended the Monterey Institute of International Studies in Monterey, California for her Master's in Public Administration, with a concentration on nonprofit management. She returned to Portland to work with the Asian Pacific American Network of Oregon on immigration, education, and health equity issues in Oregon's communities of color. Previous to joining CSJ, Jessica worked as the Community Health and Service-Learning Coordinator at Georgetown Medical School. She is currently pursuing a Master's in Educational Transformation at Georgetown.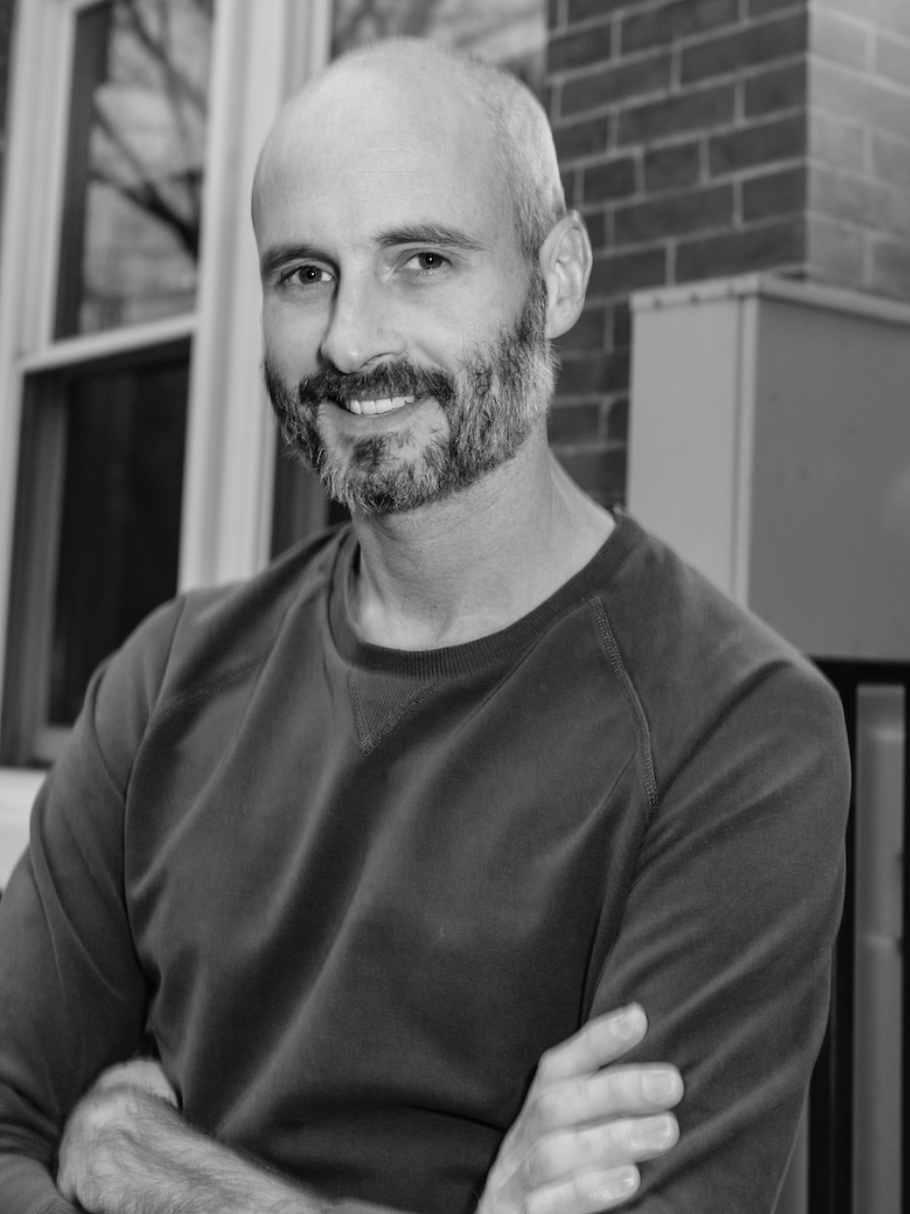 Brian J. McCabe, Ph.D.
Faculty Director for Research and Scholarship
Send a message
Brian J. McCabe is the inaugural Faculty Director for Research and Scholarship at the Center for Social Justice.
Professor McCabe is an Associate Professor in the Department of Sociology and an affiliated faculty member in the McCourt School of Public Policy. His research touches on several urban policy issues, including affordable housing, municipal campaign finance and historic preservation. His recent research projects on eviction (with Eva Rosen) and public campaign finance programs in Washington, DC have contributed to ongoing policy discussions in the city. Each of these projects featured the engaged involvement of undergraduate students in the research process.
During his time at Georgetown, Professor McCabe has taught classes on gentrification, housing policy and urban inequality. He is pioneering a new, studio-based course on gentrification to create hands-on opportunities for students to apply their knowledge to design-based projects in the city. With this learning opportunity, Professor McCabe is eager to facilitate opportunities for students to work toward a more equitable, just city.
At the Center for Social Justice, Professor McCabe is working with the CSJ team to create and expand research and teaching opportunities for students.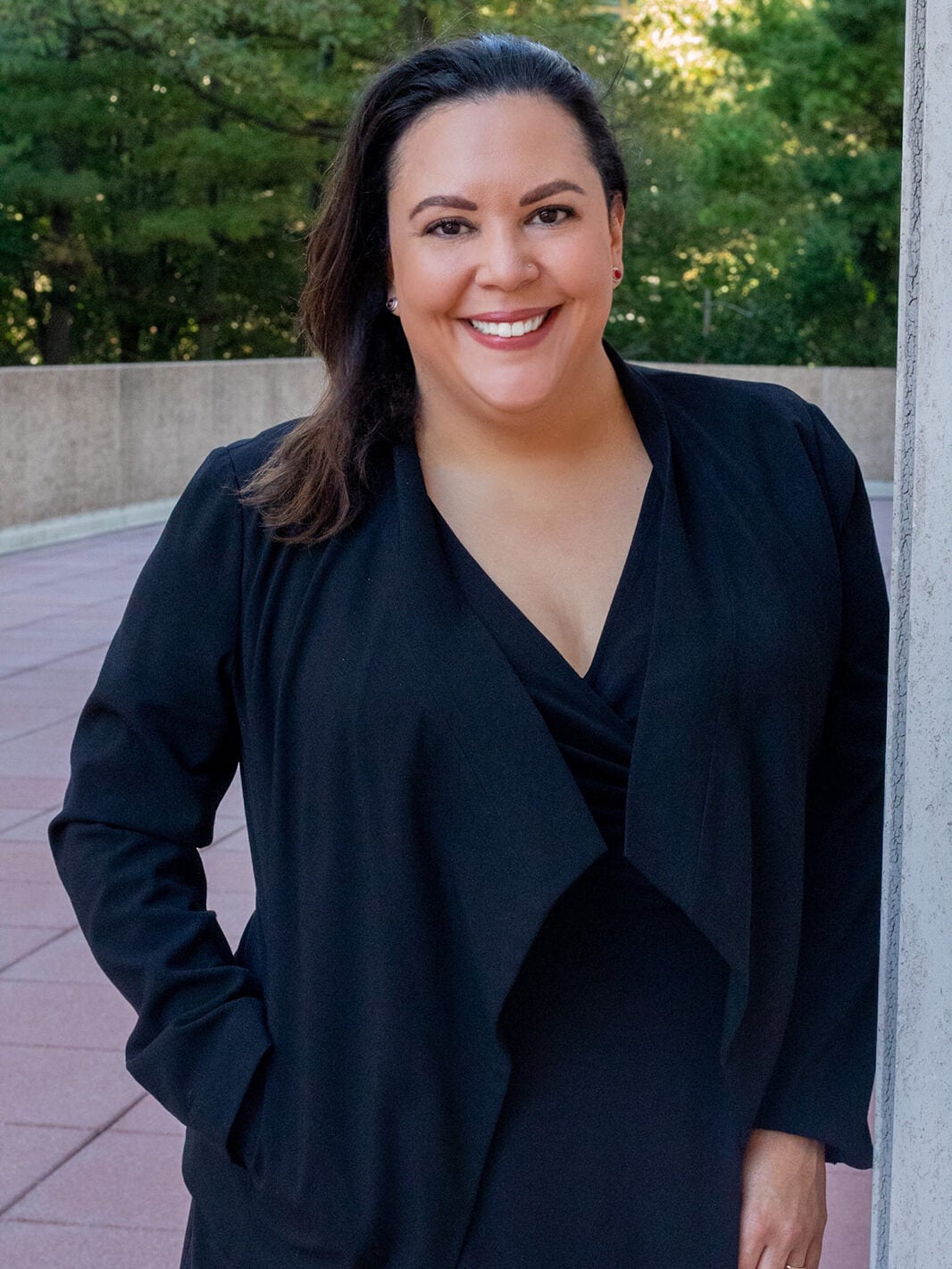 Judith Pérez-Caro, Ph.D.
Director of Engaged Scholarship and Pedagogy and Assistant Research Professor
Send a message
Judith Pérez-Caro, Ph.D. (she/her) is the inaugural Director of Engaged Scholarship and Pedagogy, and Assistant Research Professor for the CSJ.
Dr. Pérez-Caro was raised by Puerto Rican parents in Co-op City; the world's largest cooperative housing development, based in The Bronx, New York. She is trained as a sociologist with expertise in race, diversity and inequality. As a proud first-generation college graduate, Dr. Pérez-Caro has committed to serving as an educator for over two decades, and her work continues to be grounded in the core social justice education principles of community-based learning, equity in education, and access to opportunity and resources. Most recently, she spent five years as the founding executive director for the Office of Equity and Inclusion at Georgetown Law.
Since 2019, Dr. Pérez-Caro has taught the course Mastering the Hidden Curriculum for first-generation and low-income students in the Georgetown Scholars Program. In addition, she serves on the Advisory Board for the Master's in Higher Education program at Georgetown's School of Continuing Studies, for which she also is a course developer and faculty member/advisor.
Dr. Pérez-Caro holds an Executive Certificate in Crisis Leadership in Higher Education from the Harvard Kennedy School, a Ph.D. in Sociology and Advanced Certification in Latin American and Latino Studies from Fordham University, an M.A. in Higher Education Administration from Teachers College, Columbia University, and a B.A. in Communication Studies (Journalism) from Canisius College.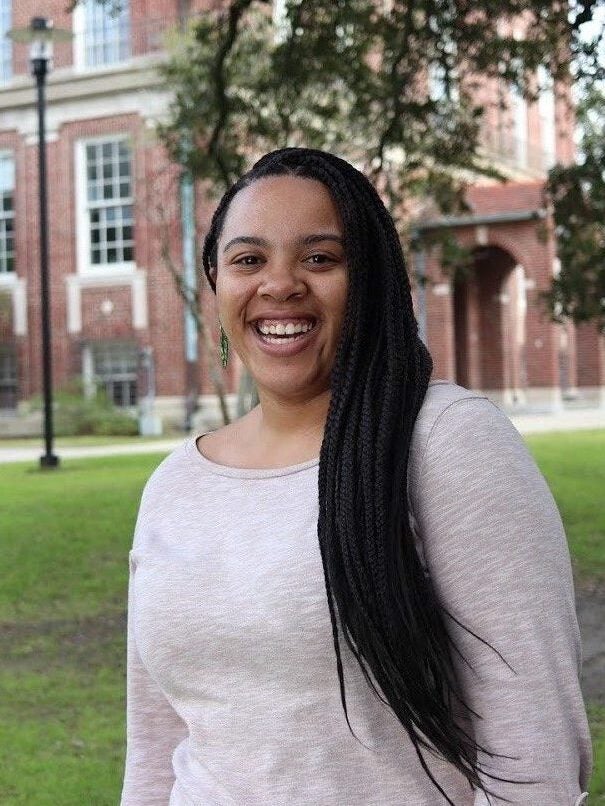 Nicole Reeder
Jumpstart Site Manager
Send a message
Nicole Reeder joins the CSJ team as our Jumpstart Site Manager after four years in New Orleans building capacity in Greater New Orleans non-profit organizations by supporting Tulane University AmeriCorps VISTA members through their year of service. A two time VISTA Alum herself, Nicole is excited to bring her love and commitment to service and social justice to the CSJ Team and the DC community. Originally from Virginia, Nicole graduated from Virginia Commonwealth University (VCU) with a Bachelor's in Psychology. In her spare time you can find her watching old episodes of Jeopardy and as a self-proclaimed foodie checking out the DC food scene.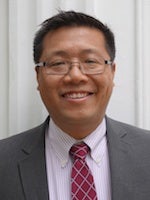 Ray Shiu
Deputy Director
Send a message
Schedule a meeting during office hours
Schedule an appointment
Ray Shiu serves as the Deputy Director of the Center for Social Justice. He has been in this role since January 2020. In this role, he is responsible for the overall management of CSJ's staff-run and student-run social justice community-based service, including student development, community and university outreach, and fiscal and administrative management. Ray joined CSJ as Special Programs Coordinator in 2004 and later served as Program Director for Student Leadership and Special Programs from 2006 to 2012 and CSJ's Associate Director from 2012 to 2020. Originally from Modesto, CA, Ray received his BS in Genetics from the University of California, Davis. After graduation, he moved to New York City and worked as a program and financial officer at a research center at the Columbia University Business School. While in New York City, Ray earned his MA in Higher Education, with a concentration in academic and student development from Columbia University's Teachers College. Ray serves as a board member on two local nonprofits providing services to the unhoused community, Friendship Place and Georgetown Ministry Center.
Andria Wisler, Ph.D.
Executive Director and Associate Teaching Professor, Justice and Peace Studies
Send a message or email me at akw28 AT georgetown.edu
Dr. Andria Wisler became the Executive Director of the Center for Social Justice in January 2013. She first joined Georgetown University in Fall 2008 as a Visiting Assistant Professor for the Program on Justice and Peace (JUPS) and served as Director of that program from January 2011-December 2012. Andria received her Ph.D. in Comparative and International Education and Philosophy from Columbia University and master's in International Educational Development and Peace Education from Teachers College. Her research and teaching are in the fields of peace education, conflict studies, and international educational development, and her principal interest lies in the transformative potential of educational initiatives in post-conflict societies and for girls living in urban poverty. After graduating from the University of Notre Dame, Andria began her vocation within education as a school teacher at an independent school, the Cornelia Connelly Center (CCC), which serves low-income girls of the Lower East Side, New York City. She served as an invited member of the Board of Trustees of the CCC for six years.
At Georgetown, Andria has been involved in several campus initiatives and programs. She has participated in the inaugural group of Doyle Fellows, a campus initiative on inclusion and diversity, the Engelhard Initiative, and in the Fall 2010 semester, Andria was a faculty-in-residence in Georgetown's Alanya, Turkey study abroad/community living-and-learning program. Andria co-edited (with Celina Del Felice and Aaron Karako) Peace Education Evaluation (Information Age, 2015), a first of its kind resource of 20 chapters that reviews the trends and challenges in evaluation of peace education, presents case studies of programs around world, and offers ideas for methodological innovations.