David F. Andretta Summer Research Fellowship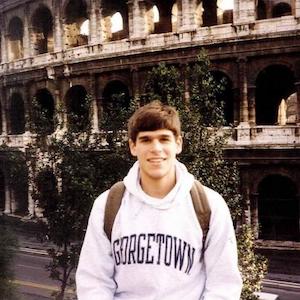 David F. Andretta (C'99, SOM '04)
Galen Weber (SFS'13), 2012 Fellow
Mashal Shah (CAS'14), 2013 Fellow
Elaine Colligan (SFS'15), 2014 Fellow
Adam Barton (CAS'16), 2015 Fellow
Clara Meija (CAS'17), 2016 Fellow
Austin Rose (CAS'18), 2017 Andretta Fellow
Jake Dyson (CAS'19), 2018 Fellow
Chelsea Hernandez (SFS'20), 2019 Fellow
Bailey Steinhauer (C'21), 2020 Fellow
Julia Jackson (C'22), 2021 Fellow
Kerry O'Donnell (C'23), 2022 Fellow
About the Fellowship
Through the David F. Andretta, MD, Explorer Fund, a rising senior is awarded $5,000 to conduct research on a social justice research issue anywhere in the world during the summer. David Andretta (COL '99, GUMC '04) was an adventurous soul and a true son of Georgetown. Throughout his 31 years of life, David enthusiastically explored the world. David was a loving son, husband, brother, mentor and friend known for his hard work ethic and zest for life, and his legacy will be embraced and extended by each successive fellowship recipient.
The fellowship is awarded annually to a Georgetown University junior who seeks to spend the summer before senior year exploring an aspect of the world through an academic research project. The applicant must find a faculty sponsor who is willing both to critique and recommend the project prior to the application's filing and to review and approve the project upon its completion. In addition, the research project must:
have clearly defined goals and objectives;
serve to advance social justice and be conducted in an empathic manner;
engage local cultures and peoples;
incorporate an outdoor activity as part of the journey; and
be conducted with the intention of publication.
The recipient receives $5,000 for travel, lodging, meals or sustenance. The award is given in two allotments: $3,500 at the beginning of the summer and another $1,500 upon the successful completion of the research project. The fellow is encouraged to apply for supplemental funding. This year's recipient must: commit at least eight weeks to research (fieldwork/data collection, analysis, writing) during the summer; submit a 5-page summary report outlining his/her work and conclusions by September 1, 2024; and present their project to the Georgetown community in a CSJ-sponsored forum during the fall 2024 semester. The fellow is expected to pursue peer-reviewed publication of their research in a relevant academic journal or similar.
The Andretta Research Fellowship came to a close in 2023. Stay tuned for a new award honoring David in months to come.
CSJ extends its gratitude to Georgetown colleagues serving on the review committee.
Read about past Andretta fellows and their research.