Plenary Session Keynotes and Panelists
The 2021 virtual conference will include plenary sessions on: Ignatian Spirituality; Environmental Justice; Racial Justice; Women's Leadership in Jesuit Higher Education; and Immigrant Justice. The National Steering Committee extends its gratitude to our plenary speakers who have been incredible gracious and flexible with our changing and challenging context.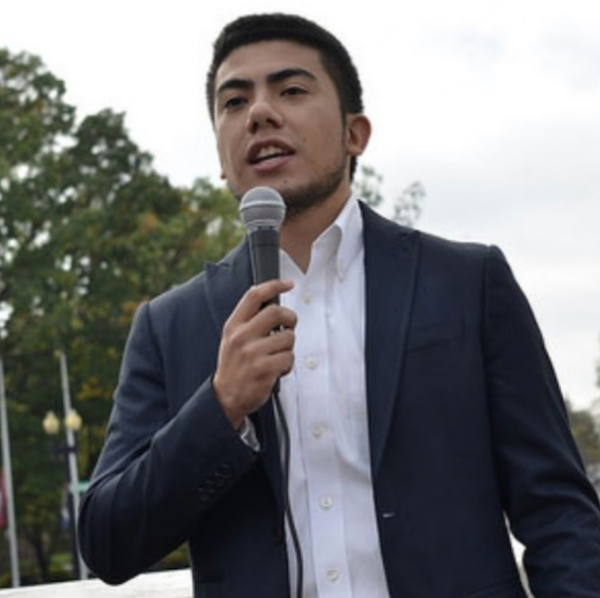 José Arnulfo Cabrera
Director of Education and Advocacy for Migration
Ignatian Solidarity Network 
He/Him/His
José Arnulfo Cabrera was born in a small village in Mexico and grew up in Cincinnati, Ohio. After high school, Cabrera, a DACA recipient, studied at Xavier University, while at the same time working at the Intercommunity Justice and Peace Center (IJPC) in Cincinnati where he started a group called Youth Educating Society (YES). Through his work at IJPC and YES he became an advocate for DACA recipients across Cincinnati, particularly at Xavier, by training and working with staff members on making Xavier a DACA-friendly campus. In 2017, Cabrera attended his first ISN program, the Ignatian Justice Summit on Immigration, and fell in love with ISN's mission. He spoke at the Advocacy Day Public Witness during the Ignatian Family Teach-In for Justice in 2017 and the 2018 Ignatian Justice Summit, and has contributed to ISN's online content. After graduation, Cabrera served as a government relations associate at NETWORK Lobby for Catholic Social Justice in Washington, D.C. where he enhanced his understanding and knowledge of furthering pro-immigrant policy.
Margaret N. Freije, Ph.D.
Provost and Dean of the College, College of the Holy Cross
She/Her/Hers
Margaret Freije earned her bachelor's degree at Boston College and Ph.D. at Brown University. She came to Holy Cross in the fall of 1986. A specialist in arithmetic geometry, Freije has distinguished herself as a teacher, faculty member, and through her administrative contributions to the College. She was honored with the Holy Cross Distinguished Teaching Award in 1997 and was named a "Woman of Distinction" by the Girl Scouts in 2003. She has served on pivotal College committees, including the Social Concerns Committee and the First Year Program Committee. She has also been a faculty representative to the Trustee's Academic Affairs Committee. She served as Class Dean for the classes of 1999 and 2003, as Assistant Dean for Curriculum Management, as Associate Dean, as Vice President of Academic Affairs and Dean of the College, before assuming her most recent administrative role as Provost and Dean of the College.
As Provost and Dean of the College, Dr. Freije provides leadership and day-to-day management for all facets of the academic life of the College. She also serves as a member of the President's Cabinet and plays a role in setting strategic priorities for the College.
Margo J. Heydt, Ed.D., LISW-S
Associate Professor, Social Work Department, Xavier University
She/Her/Hers
Dr. Margo J. Heydt is an Associate Professor in the Department of Social Work at Xavier University in Cincinnati, Ohio. She received her MSW from West Virginia University and her Ed.D. in counseling from the University of Cincinnati. Dr. Heydt was awarded Xavier's 2014 Jesuit Faculty Fellowship Sabbatical entitled: "A Jesuit 'whodunit': Decree 14 Jesuits and the Situation of Women in Church and Civil Society (1995)." Issues such as intimate partner violence, child abuse, addiction, ethics, and diversity are areas of interest in practice and academics, including consulting with religious institutions regarding sexual abuse.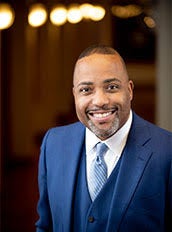 Robert D. Kelly, Ph.D.
Vice President and Special Assistant to the President, Loyola University Maryland
He/Him/His
A 1994 graduate of Loyola, Kelly provides leadership for the areas across the University such as Mission & Identity, Intercollegiate Athletics, External Affairs, and the Division for Student Development. Deeply immersed in both liberal arts and Jesuit education, he works closely with the President to coordinate oversight of the strategic plan. Dr. Kelly served in executive leadership roles at Union College, Loyola University Chicago, and Seattle University. In addition to his bachelor's degree in political science, Dr. Kelly received his Ph.D. from the University of Maryland and his master's degree from the University of Vermont. He has also served on Loyola's Board of Trustees; and attended Harvard University's Institute for Educational Management (IEM).
Keesha M. Middlemass, Ph.D.
Associate Professor, Department of Political Science, Howard University
She/Her/Hers
Dr. Middlemass is a tenured Associate Professor in the Department of Political Science at Howard University in Washington, D.C. She is a nationally known expert in conducting multi-and interdisciplinary research using empirical data to study how race, policies, politics, history, sociology, and the law impacts marginalized populations. Her award-winning book, Convicted & Condemned: The Politics and Policies of Prisoner Reentry (NYU Press, 2017), explores how policies create perverted incentives for men and women attempting to reenter society after serving time in prison. Dr. Middlemass studies the holistic experience of reentering society by incorporating interviews, focus groups, participant observation, policy analysis, archival research, and ethnography to better comprehend the lived experience of moving from prison into society. This holistic approach is with the purpose of filling in critical gaps in understanding reentry, which includes community context, public policies, individual deficits, trauma, the psychological impact of incarceration, and why adults experience food insecurity when returning to society. Dr. Middlemass' work is published in leading journals in numerous academic sub-fields, including Journal of Economic Development & Social Justice, International Journal of Eating Disorders, Criminal Justice & Behavior, Aggressive Behavior, Clinical Psychological Science, Public Health Nutrition, The Prison Journal, and Punishment & Society. Dr. Middlemass is a former Andrew Mellon Post-Doctoral Fellow on Race, Crime and Justice at the Vera Institute of Justice in New York City and a former American Political Science Association Congressional Fellow (2001). Dr. Middlemass earned her Ph.D. (Public Policy, American Politics, Public Administration) and Masters (American Politics) from The School of Public & International Affairs at the University of Georgia.
Dr. Debra Mooney
Vice President/CMO, The Center for Mission and Identity, Xavier University
She/Her/Hers
Dr. Debra Mooney assumed the role of Vice President for Mission and Identity and Chief Mission Officer on August 1, 2009. She is responsible for promoting the active engagement of the campus community in carrying out the mission of Xavier University as a Jesuit Catholic institution through the Center for Mission and Identity. Within the Center is the Ruth J. and Robert A. Conway Institute for Jesuit Education, for which she serves as the Founding Director.
As a licensed clinical psychologist, Dr. Mooney joined Xavier in 1999 practicing in the McGrath Health and Counseling Center and serving as the University Wellness Coordinator. In 2002, she was named the Associate Director of Ignatian Programs, Xavier's office of mission and identity, and served in various capacities as the Acting Director (2003), Director (2004), and Associate Vice President of the Division of Mission and Identity (2007).

Michele C. Murray, Ph.D.
Vice President for Student Affairs and Dean of Students, College of the Holy Cross
She/Her/Hers
Dr. Michele Murray serves as Vice President for Student Affairs and Dean of Students at the College of the Holy Cross. She provides leadership for integrating students' intellectual, spiritual, and emotional development, ensuring a vibrant campus life, and delivering excellent services and programs for all students. Michele has served Jesuit higher education for 24 years, has co-authored two books and authored numerous chapters and articles. She has served on professional boards, including JASPA and NASPA. Michele graduated with an B.A. in from the University of Virginia, an M.Ed. from the University of Vermont, and a Ph.D. from the University of Maryland.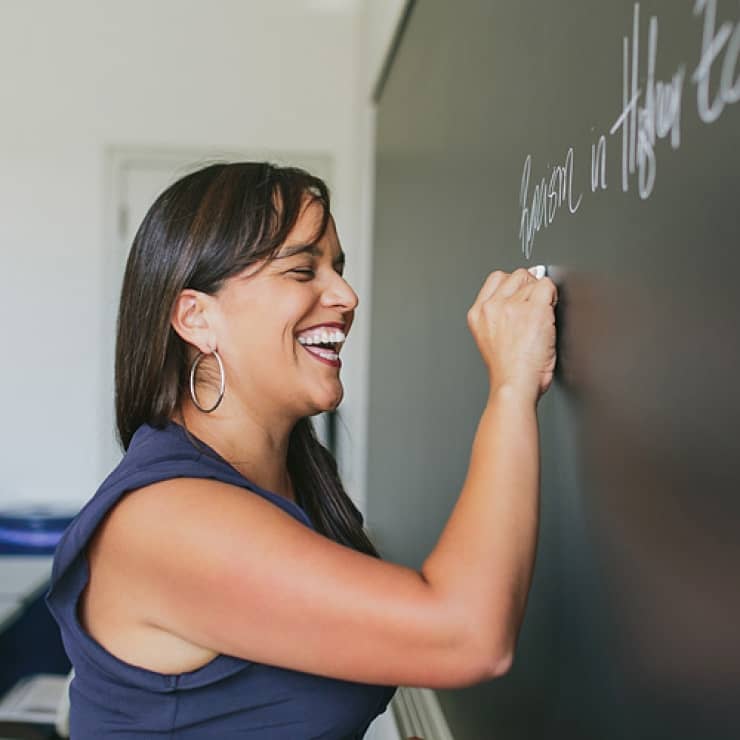 Genevieve Negrón-Gonzales
Associate Professor, School of Education, University of San Francisco
She/Her/Hers
Genevieve Negrón-Gonzales is Associate Professor in the School of Education and affiliate faculty in the Migration Studies Program at the University of San Francisco. Raised on the U.S.-Mexico border, Negrón-Gonzales has been working with, supporting, and researching the lives of undocumented young people for the past 15 years in multiple capacities: as a student affairs professional, a researcher, and as an activist. She discovered her own intellectual and activist passion at the age of sixteen, when she became involved in the immigrant rights movement by fighting against the anti-immigrant California Ballot Proposition 187. Negrón-Gonzales is co-author of Encountering Poverty: Thinking and Acting in an Unequal World (University of California Press, 2016) and co-editor of We Are Not Dreamers: Undocumented Scholars Theorize Undocumented Life in the United States (Duke University Press, 2020).  Her work lies at the intersection of education, immigration and social movements. 
Joan Rosenhauer
Executive Director, Jesuit Refugee Service/USA
She/Her/Hers
Joan Rosenhauer is the Executive Director of Jesuit Refugee Service/USA. In this role, Joan leads the organization's efforts in the U.S. to fulfill its mission – to accompany, serve, and advocate for refugees and displaced people in over 50 countries around the world.

Rosenhauer is a former JRS/USA Board Member and has spent most of her career advocating for social justice and mobilizing the U.S. Catholic community to do the same. As an Executive Vice President of Catholic Relief Services (CRS), Joan led the organization's outreach, marketing, and communications – helping those in the United States respond to critical needs around the world. Prior to joining CRS, Joan spent 16 years with the U.S. Conference of Catholic Bishops, where she most recently served as the Associate Director of the Department of Justice, Peace, and Human Development. Prior to that role, she held a variety of positions, including Special Projects Coordinator and Outreach Coordinator for the USCCB's Department of Social Development and World Peace.
Joan has a bachelor's degree in social work from the University of Iowa and a master's degree in public policy management from the University of Maryland. She has been awarded honorary doctorates from Dominican College, St. Ambrose University, and Georgetown University. Joan hails from Chicago and is the 2009 recipient of the Harry A. Fagan Award from the Roundtable Association of Diocesan Social Action Directors.
Stephanie Russell, Ed.D.
Vice President and Consultant for Mission Integration, Association of Jesuit Colleges and Universities (AJCU)
She/Her/Hers
Stephanie Russell, Ed.D. serves as Vice President and Consultant for Mission Integration at the Association of Jesuit Colleges and Universities. Her duties include designing and implementing programs to help Jesuit colleges and universities enhance their mission effectiveness, and supporting linkages among the schools in the Jesuit higher education network.
Prior to her work with AJCU, Dr. Russell was Vice President for Mission and Ministry at Marquette University for 15 years. She has worked in Jesuit ministries for more than three decades, including 11 years as Provincial Assistant for Lay Formation and Social Ministry with the Wisconsin Province of the Society of Jesus. She is a co-creator of the Ignatian Colleagues Program, a comprehensive developmental program for administrators at Jesuit colleges and universities across the country, along with other formational programs. She earned a B.A. from Marquette University, an M.A. in Pastoral Studies from St. Francis Seminary in Wisconsin, and an Ed.D. in Higher Education Management from the University of Pennsylvania. She has been awarded honorary doctorates from Spring Hill College and Gonzaga University.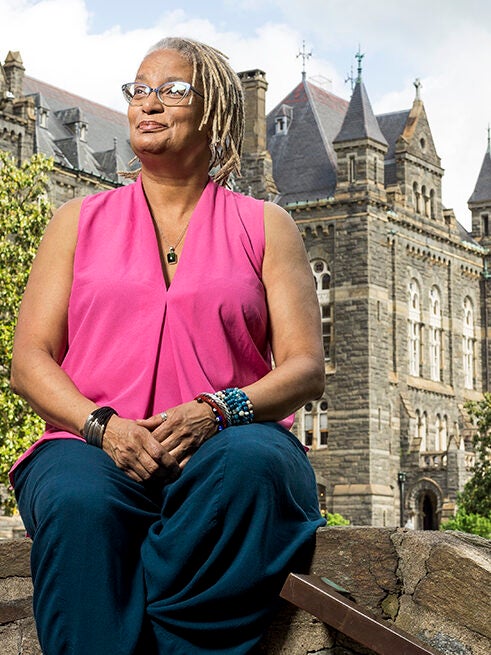 Melisande Short-Colomb
Community Engagement Associate, Georgetown University, Laboratory for Global Performance and Politics
She/Her/Hers
Mélisande (Meli) Short-Colomb is a rising third-year student at Georgetown College, and, a founding member of the GU272 Advocacy Team. Mélisande is a descendant of two families sold in 1838 by the Society of Jesus to keep Georgetown College afloat. A native of New Orleans, LA, Mélisande began her studies at Georgetown in August of 2017, as one of two undergraduate students accepted into the college from the recognized descendant families. She retired from a lengthy culinary career, most recently as Chef Instructor for Langlois Culinary Crossroads, to relocate to Washington to attend Georgetown University. Her family includes four adult children and four granddaughters, and scores of newly-identified cousins.
She serves on the Georgetown Memory Project's Board of Advisors, as well as Council Elder of the GU272 Descendants Association. She is a recipient of a 2019 Fr. Bunn Award for journalistic excellence for commentary in support of the "GU272 Referendum to Create a New Legacy." The referendum was passed by overwhelming student support and vote on April 11, 2019. 
Meli serves as a Community Engagement Associate with the Georgetown University, Laboratory for Global Performance and Politics. She is frequently invited to speak on the subjects of the GU272 and reparations. She has appeared in venues as varied as the Inter-American Bank the Brooklyn Historical Society, and Columbia University. Meli has been featured in print in outlets from the Washington Post and The New Yorker to the AARP Journal. Multiple news programs have had stories on Meli, and she starred in a Full Frontal with Samantha Bee episode on reparations. 
Reverend

Thomas H Smolich, S.J.
International Director, Jesuit Refugee Service
He/Him/His
Tom Smolich, S.J. has been International Director of the Jesuit Refugee Service (JRS) since October 2015. His assignments include service as Associate Pastor and Executive Director of Proyecto Pastoral at Dolores Mission in Los Angeles, and as Project Manager at Mid-Peninsula Housing Coalition, an affordable housing developer in the San Francisco Bay Area. From 1999-2005 he was the California Province Provincial, and from 2006-2014, President of the Jesuit Conference of the United States, coordinating national and international projects of the Society in the United States. He also worked in Masisi, Democratic Republic of Congo with JRS during 2015.
Father Arturo Sosa Abascal, S.J.
Superior General, Society of Jesus
He/Him/His
Father Arturo Sosa Abascal, SJ, from Venezuela, was elected 31st Superior General of the Society of Jesus in the General Congregation 36 (GC 36) of the Jesuits on October 14, 2016 in Rome. Father Sosa directs the Society of Jesus, the largest religious order of priests and brothers in the Catholic Church.
Father Sosa was born in Caracas, Venezuela, on November 12, 1948. He was raised in a Catholic family that valued the academic world, and remembers being encouraged to "open up to the world, to study languages." 
He entered the Society of Jesus in September 1966, and was ordained a priest in 1977. He has a degree in philosophy from the Andrés Bello Catholic University in Caracas, a degree in theology from the Gregorian University in Rome, and a doctorate in political science from the Central University of Venezuela. He was superior provincial of the Society of Jesus in Venezuela from 1996 to 2004.
As rector of the Universidad de Frontera in Táchira, 600 miles from Caracas near the Colombian border, Father Sosa worked on an apostolic project that brought together people from both sides of the border. He also helped organize Jesuit universities in Latin America into an effective network to combat poverty and foster youth leadership. Fe y Alegría, which provides educational opportunities for the poor in 21 countries, has always been a priority.
Tania Tetlow, J.D.
President, Loyola University New Orleans
She/Her/Hers
Tania Tetlow, J.D., is the 17th university president of Loyola University New Orleans. She is the first woman and the first layperson to lead Loyola since the Society of Jesus founded the university in 1912. President Tetlow is the fourth woman president as well as the youngest woman president to lead one of the 28 Jesuit colleges and universities in the U.S. that comprise the Association of Jesuit Colleges and Universities (AJCU.)
Previously, President Tetlow served as senior vice president and chief of staff as well as the Felder-Fayard Professor of Law at Tulane University, where she was key strategic adviser to President Michael Fitts. In this role, she held oversight of government, community, and board relations; she led special policy efforts on issues including campus safety, race and diversity, and campus sexual misconduct reforms. During her time as strategic adviser, Tulane's enrollment, retention, and fundraising soared, and the university experienced great cultural, community, and financial transformation.
A renowned lawyer and member of the Tulane Law School faculty since 2005, President Tetlow served as Tulane's inaugural associate provost for international affairs, coordinating the university's international programs, research, and students. Her research helped to usher in new anti-discrimination policies at the U.S. Department of Justice. She directed Tulane's Domestic Violence Law Clinic and raised a total of $2.3 million in federal grant funds. She advised governments and law clinics in Egypt, Rwanda, and Iran on domestic violence policy and was chosen to participate in the U.S. delegation to the Secretary of State's People-to-People Exchange in Beijing. In 2009, she was the newest faculty member ever to receive Tulane's University Graduate Teaching Award.
Before joining academia, President Tetlow was an associate at Phelps Dunbar, litigating complex commercial transactions. She also served as an assistant United States attorney, prosecuting everything from violent crime to fraud cases. President Tetlow brings to Loyola a wealth of experience, as well as strong community, donor, and industry relationships. She has served on a variety of nonprofit boards and city commissions. At the mayor's request, she led a turnaround of the NOPD Sex Crimes Unit. In the aftermath of Hurricane Katrina, she chaired the New Orleans Public Library board and raised $7 million to rebuild flooded branches. She was selected for the British American Project, a bilateral leadership organization, and later served as its U.S. chair. President Tetlow graduated cum laude from Tulane University with a B.A. in American Studies and is a magna cum laude graduate of Harvard Law School as well as a Harry Truman Fellow. A Catholic and a New Orleanian, President Tetlow has deep family ties to the Jesuits and has been a member of the Ignatius Chapel community at Loyola since she was 6 years old.
Nancy C. Tuchman, Ph.D.
Founding Dean, Institute of Environmental Sustainability, Loyola University Chicago
She/Her/Hers
Dean Nancy Tuchman's vision for the Institute of Environmental Sustainability (IES) is to raise public awareness of the unsustainable consumption of Earth's natural resources with the goal of transforming behavior, developing policy, and inspiring and preparing next generation of science-based environmental leaders. Under Tuchman's direction, IES has developed several flagship programs including producing biodiesel which converts waste vegetable oil into fuel and uses it in intercampus shuttle buses; using waste glycerin to produce soap which is being sold in campus stores; and growing food organically at Loyola University Chicago's  4-acre student run farm and on their urban campus gardens.
Dean Tuchman's research focuses on human impacts on aquatic ecosystem structure and function. Her work has spanned from investigating the effects of greenhouse gases on stream ecosystem food webs, to the impacts of invasive plant and animal species on Great Lakes coastal ecosystems, to the effects of emerging contaminants such as plasticizers (Bisphenol-A), and pharmaceuticals (e.g. antibiotics and endocrine disruptors) on streams and lakes. Working with students in research is one of the most rewarding aspects of Tuchman's career. Throughout her 25-year career at Loyola, she has mentored or co-mentored 74 undergraduate students in individual research projects, and 34 graduate students.
Karsonya Wise Whitehead, Ph.D.
Associate Professor of Communication and African and African American Studies, Department of Communication, Loyola University Maryland
She/Her/Hers
Recently selected to receive the 2019 Exceptional Merit in Media Award, Karsonya (Dr. Kaye) Wise Whitehead is an Associate Professor of Communication and African and African American Studies in the Department of Communication at Loyola University Maryland; the host of the award-winning radio show, Today With Dr. Kaye on WEAA 88.9 FM; and, an Opinion Editorial Columnist for the Baltimore Afro newspaper. She is the author of four books including RaceBrave: New and Selected Works and Notes from a Colored Girl: The Civil War Pocket Diaries of Emilie Frances Davis. Follow her via Twitter @kayewhitehead or at her website www.kayewisewhitehead.com.
Joanna Williams
Executive Director, Kino Border Initiative
She/Her/Hers
Joanna Williams has been the Director of Education and Advocacy at the Kino Border Initiative (KBI) in Nogales, Arizona and Sonora since 2015. She graduated with a B.S. from the School of Foreign Service at Georgetown University and received a Master's in Public Policy from Arizona State University. Prior to her current position, she has journeyed with immigrants in a variety of contexts. She volunteered at a shelter in Tierra Blanca, Veracruz, conducted Fulbright research on the reintegration of deported and return migrants, and worked as a coordinator for the American Civil Liberties Union's Border Litigation Project.
Yohuru Williams, Ph.D.
Distinguished University Chair and Professor of History, Founding Director, Racial Justice Initiative, University of St. Thomas
He/Him/His
Dr. Yohuru Williams is Distinguished University Chair and Professor of History and Founding Director of the Racial Justice Initiative at the University of St. Thomas. He received his Ph.D. from Howard University in 1998. Dr. Williams is the author of: Black Politics/White Power: Civil Rights Black Power and Black Panthers in New Haven (Blackwell, 2006); Rethinking the Black Freedom Movement (Routledge, 2015); Teaching beyond the Textbook: Six Investigative Strategies (Corwin Press, 2008). He is the editor of A Constant Struggle: African-American History from 1865 to the Present Documents and Essays (Kendall Hunt, 2002), and is co-editor of The Black Panthers: Portraits of an Unfinished Revolution (Nation Books, 2016), In Search of the Black Panther Party, New Perspectives on a Revolutionary Movement (Duke, 2006), and Liberated Territory: Toward a Local History of the Black Panther Party (Duke, 2008). Dr. Williams served as an advisor on the popular civil rights reader Putting the Movement Back into teaching Civil Rights. Dr. Williams has appeared on a variety of local and national radio and television programs most notably ABC, CNN, MSNBC, Aljazeera America, BET, CSPAN, EBRU Today, Fox Business News, Fresh Outlook, Huff Post Live, and NPR. He was featured in the Ken Burns PBS Documentary "Jackie Robinson" and the Stanley Nelson PBS Documentary "The Black Panthers." He is also one of the hosts of the History Channel's Web show "Sound Smart." Dr. Williams is also presently finishing a new book entitled In the Shadow of the Whipping Post: Lynching, Capital Punishment, and Jim Crow Justice in Delaware 1865-1965 under contract with Cambridge University Press.