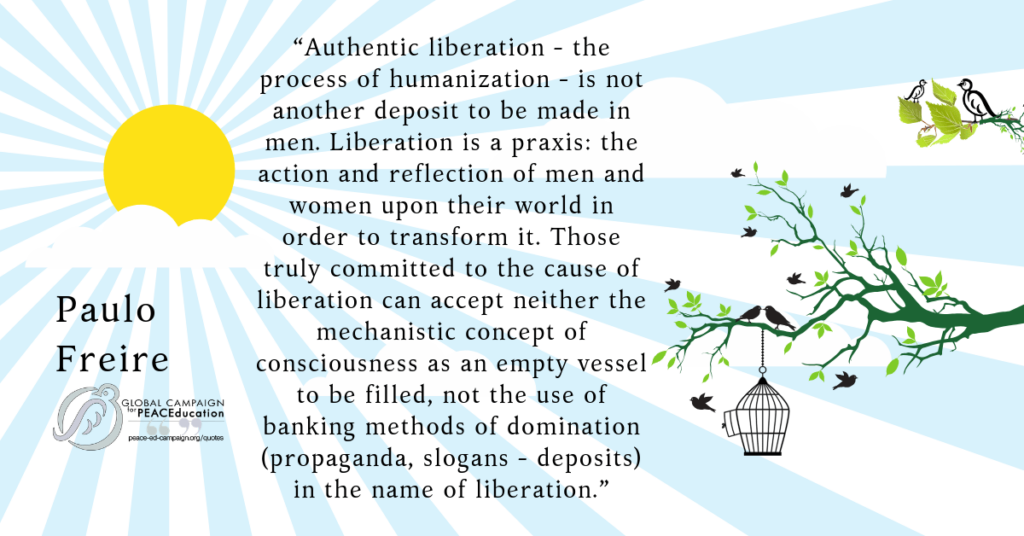 In collaboration with diverse campus and community partners, CSJ coordinates Education for Liberation Week to raise awareness about both the challenges and celebrations within the current field of education. 
Education for Liberation Week
Monday, October 11 – Friday, October 15, 2021

The Fall 2021 Education for Liberation Week will be a mix of virtual and in-person events. Please send your questions to csj@georgetown.edu.
You can also view this webpage as a Google Doc.
Please submit accommodation requests regarding a disability to csj.georgetown.edu/ar at least five business days before the event. A good faith effort will be made to fulfill requests.
Monday, October 11, 2021
Indigenous People's Day (University Holiday)
CSJ encourages Georgetown community members to learn about Indigenous People's Day and Indigenous issues and events through the website of the University's Indigenous Studies Working Group.
We also recommend the Guide to Indigenous DC, a walking tour map featuring sites of historical and contemporary importance to Native peoples across the Nation's capital. Developed by Principal Investigator Elizabeth Rule for the AT&T Center for Indigenous Politics and Policy at the George Washington University, and in partnership with the American Indian and Alaska Native Tourism Association, the Guide was created in close collaboration with scholars, historians, and members of the local Native community who have institutional knowledge of key events and locations.
---
Tuesday, October 12, 2021
Hosted by the Center for Social Justice and Berkley Center for Religion, Peace & World Affairs
Undergraduates, learn more about two social justice-based research fellowships – the Andretta (summer 2022) and the Education and Social Justice Project (2022).
RSVP for Zoom link to CSJresearch@georgetown.edu. 
2:00 PM–3:00 PM A New Player in Undermatching, a virtual conversation with Alexa Eason (C'20) and Jerome Smalls (MSB'19)
Hosted by The Pivotal Network of The Hub for Equity and Innovation
Join Alexa Eason and Jerome Smalls as they present The Pivotal Network (TPN) – an initiative from Georgetown aimed at creating a networked learning community of high school educators from across the country. TPN addresses the problem of undermatching–the phenomenon of students not attending colleges that "match" their academic talents–for first generation and low income students. The undermatching landscape is filled with initiatives that work directly with students from historically marginalized social identities. Yet, these programs often focus their efforts on "top" students at risk of not attending highly selective schools, which limits the depth and breadth of their impact. The Pivotal Network represents a novel approach to undermatching by utilizing the untapped potential (and scalability) of high school educators as drivers of change. Alexa and Jerome raise the question, "If our teachers aren't supported, how can our students be?" By highlighting the need and immense opportunity to work with outstanding high school educators, they showcase the potential of The Pivotal Network's teacher community and its impact. 
No RSVP required. Join the Zoom at: https://georgetown.zoom.us/j/99497422291. Questions to jds29@georgetown.edu.
---
Wednesday, October 13, 2021
For undergraduates who are Federal Work Study eligible only: Learn about a new program of GU's Center for Social Justice; Office of Government Relations and Community Engagement; and Office of Student Employment through which you can apply for an internship placement with a DC-based Legacy of a Dream awardee community-based organization and allocate your Federal Work Study award.
RSVP for Zoom link to DCmission@georgetown.edu. Questions to Andria.Wisler@georgetown.edu.
12:00 PM–1:00 PM
When Cultural Competency and Intersectionality Backfire
Hosted by the MA in Conflict Resolution Program
Join Veronica Quinonez (G'17), a power based violence and DEI trainer, for a virtual workshop on the awareness and skills professionals in helping fields can build to avoid harming the very communities they serve.
Register via Eventbrite for the Zoom Link. Questions to Maricruz.Luna@georgetown.edu.
5:00 PM–6:00 PM
A Virtual Chat with Urban Teachers
Hosted by the Cawley Career Center for Education
Find out more about Urban Teachers and hear from teachers about their experience in the program and how they work to empower every child through learning.
Register via Handshake. Questions to Elizabeth.Schill@georgetown.edu. 
---
Thursday, October 14, 2021
In a new report (new window) on DC's Public Campaign Finance system, Professor Brian McCabe and Kenan Dogan (SFS '23) examine how the Fair Elections program has changed the way local campaigns are financed in the District and how the program will impact elections moving forward. To discuss the report and its findings, there is a virtual event  (new window)with DC Councilmember Christina Henderson, Columbia University Professor Ester Fuchs and DC Political Consultant Chuck Thies. Thinking about the future of local elections, the event will focus on both public campaign finance in DC and the proposed Rank Choice Voting legislation put forward by Councilmember Henderson.

 RSVP here (new window) to receive the Zoom link. 
12:00PM-2:00PM @ The Center Social Justice Poulton Hall Outdoor Courtyard Tent Book Bundling with Everybody Wins DC
Hosted by DC Reads Program of the Center for Social Justice
Support greater access to engaging, representative reading materials for youth! Join us for an on-site service event preparing books for distribution across the city with Everybody Wins DC (new window).
No RSVP necessary. Questions to dcreads@georgetown.edu.
4:00 PM–5:00 PM
Striving Toward Liberatory Futures and Possibilities in Higher Education, a virtual conversation with Ijeoma Njaka (G'19) and Jan Menafee (SFS'20)
Hosted by The Red House
How might we change the kind of education that students experience at historically White institutions of higher education? Could a traditional university become a site of empowerment, change, and liberation? If so, what could that look like? In this session, participants will learn about curricular projects and initiatives intended to address these questions and foster long-term transformation at the university from representatives of Georgetown University's Red House.
No RSVP required. Join the Zoom at https://georgetown.zoom.us/j/99812877115. Questions to inn3@georgetown.edu.
5:00 PM–6:00 PM
Understanding the School to Prison Pipeline, a virtual session with Teach for America (TFA)

In this virtual session co-hosted by Teach For America and Center for Social Justice student organizations, participants will learn about the systemic factors contributing to the School to Prison Pipeline and the detrimental outcomes it has for our students and communities. Participants will leave the session with ways to aid in dismantling the School to Prison Pipeline and hold leaders accountable for making change.
Register via Handshake; Zoom Link (password: 418516). Questions to Elizabeth.Schill@georgetown.edu. 
---
Friday, October 15, 2021
10:00 AM–1:30 PM
Virtual Postgraduate Service in Education Opportunities Career Fair
Hosted by the Cawley Career Center for Education. This event is offered exclusively for undergraduate students.
Interested in postgraduate opportunities in education service organizations? Come chat with recruiters from Teach for America, the Alliance for Catholic Education, Urban Teachers and more.
Register via Handshake. Questions to Elizabeth.Schill@georgetown.edu.
3:30 PM–4:30 PM @ Poulton Hall Courtyard Outdoor Tent
Family Weekend Celebration of the 20th anniversary of the Center for Social Justice and 10th anniversary of the Program on Education, Inquiry, and Justice

Hoyas, bring your parents and families to the Poulton Hall Courtyard for a joint celebration of the Center for Social Justice and the Program on Education, Inquiry, and Justice! Enjoy delicious DC treats and community-building bookmark and button-making activities. Support DC literacy efforts with on-site opportunity of note-writing for encouraging young readers with Everybody Wins DC.
No RSVP necessary. This is an outdoor and masked event, rain or shine (within reason). Questions to Andria.Wisler@georgetown.edu.
5:00 PM–5:45 PM
Equity, Identity and Excellence in Education Speaker Series with Dr. Yolanda Sealey Ruiz, Teachers College, Columbia University (virtual)
Hosted by the Minor on Education, Inquiry and Justice and the Masters of Arts in Educational Transformation
Self Care & Archaeology of Self in Teacher Education
Individuals who develop racial literacy are able to engage in necessary personal reflection about their racial beliefs and practices, and teach their students to do the same. Racial literacy in schools includes the ability to read, write about, discuss and interrupt situations and events that are motivated and upheld by racial inequity and bias. Sustaining racial literacy across the life span is possible by engaging in an "Archeology of the Self" – an action-oriented process requiring love, humility, self-care, deep reflection, an understanding of history, and a commitment to working against racial injustice.
RSVP for Zoom link at https://forms.gle/13wFc26DVM3yHpjB6. Questions to Anne.Musica@georgetown.edu.
---
Further opportunities through the Center for Social Justice
Priority deadline for these opportunities is Wednesday, October 20, 2021:
Center Operations Team: CSJ is hiring! The CSJ Operations Team supports EngageDCorps programs, student organizations, community-based learning courses, engaged research, and racial justice work through "behind-the-scenes" infrastructure and logistics. Members of the Center Operations Team work closely with CSJ professional staff in administrative and financial work, training and compliance, and van driving and gassing operations. Hours for each Operations team member are highly flexible and built around that student's schedule. Students must allocate their Federal Work Study (FWS) award to this position.
Alternative Break Program (ABP): ABP invites you to connect with a year-long social justice community, break the Georgetown bubble, and learn directly from activists and advocates on the ground through one of our nine immersion experiences. Apply at bit.ly/ABP22 (via your GU email account) and direct questions to altbreaks@georgetown.edu.
---
Recommended Events
The Center for Social Justice highly recommends all of the events of OUTober, presented by Georgetown's LGBTQ Center; Tagliabue Initiative for LGBTQ Life; GU Pride; GU Queer People of Color (QPOC); and Haus of Hoya. There are two OUTober events during Education for Liberation Week: Coming Out Day on October 13 and Decolonize the Dance Floor on October 14.
The Center for Social Justice highly recommends (with their approval) the SNCC 60th Anniversary Conference from October 14-16, 2021. It celebrates the anniversary of the October 1960 conference that officially made SNCC an organization which was active from 1960-1970. The legacy of the SNCC continues through the SNCC Legacy Project through which SNCC veterans from the 1960s and the leaders of today's social justice movements meet and share and plan for the future. The conference is entirely virtual and registration for students is $50 and registration for non-students is $100.
---