Justice 2020 Plenary Speakers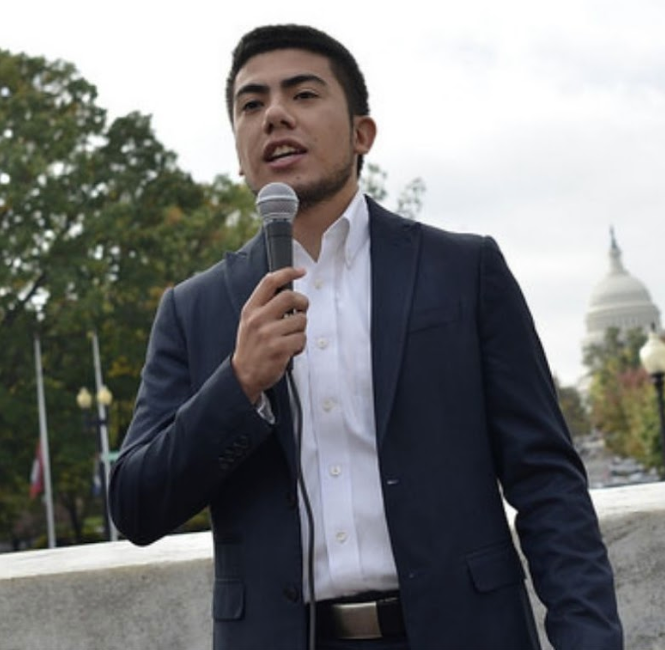 José Arnulfo Cabrera
Director of Education and Advocacy for Migration
Ignatian Solidarity Network
He/Him/His
José Arnulfo Cabrera was born in a small village in Mexico and grew up in Cincinnati, Ohio. Growing up, Cabrera remembers his mom organizing undocumented workers in Cincinnati for a just wage and safe working conditions. During this time, he learned organizing tricks and skills to keep people engaged and hopeful during disappointing moments. It wasn't long until Cabrera started organizing for immigration reform issues, sharing his family's story and how he would benefit from legislation like the DREAM Act. After high school, Cabrera, a DACA recipient, studied at Xavier University, while at the same time working at the Intercommunity Justice and Peace Center (IJPC) in Cincinnati where he started a group called Youth Educating Society (YES). Through his work at IJPC and YES he became an advocate for DACA recipients across Cincinnati, particularly at Xavier, by training and working with staff members on making Xavier a DACA friendly campus. In 2017 Cabrera attended his first ISN program, the Ignatian Justice Summit on Immigration, where Cabrera fell in love with ISN's mission. He spoke at the Advocacy Day Public Witness during the Ignatian Family Teach-In for Justice in 2017 and the 2018 Ignatian Justice Summit, and has contributed to ISN's online content. After graduation, Cabrera served as a government relations associate at NETWORK Lobby for Catholic Social Justice in Washington, D.C. where he enhanced his understanding and knowledge of furthering pro-immigrant policy.
Margo J. Heydt, Ed.D., LISW-S
Associate Professor, Social Work Department, Xavier University
She/Her/Hers
Dr. Margo J. Heydt is Associate Professor in the Department of Social Work of Xavier University in Cincinnati, OH. She received her MSW from West Virginia University and her Ed.D. in counseling from the University of Cincinnati. Dr. Heydt was awarded Xavier's 2014 Jesuit Faculty Fellowship Sabbatical entitled: "A Jesuit 'whodunit': Decree 14 Jesuits and the Situation of Women in Church and Civil Society (1995)." Issues such as intimate partner violence, child abuse, addiction, ethics, and diversity are areas of interest in practice and academics, including consulting with religious institutions regarding sexual abuse.

Michele C. Murray, Ph.D.
Vice President for Student Affairs and Dean of Students, College of the Holy Cross
She/Her/Hers
Michele Murray serves as Vice President for Student Affairs and Dean of Students at the College of the Holy Cross. She provides leadership for integrating students' intellectual, spiritual, and emotional development, ensuring a vibrant campus life, and delivering excellent services and programs for all students. Michele has served Jesuit higher education for 24 years, has co-authored two books and authored numerous chapters and articles. She has served on professional boards, including JASPA and NASPA. Michele graduated with her B.A. in from the University of Virginia, her M.Ed. from the University of Vermont, and her Ph.D. from the University of Maryland.
Kevin O'Brien, S.J.
President, Santa Clara University
He/Him/His
Kevin O'Brien, S.J. has served as President of Santa Clara University since July 2019. Previously, he served as Dean of Santa Clara's Jesuit School of Theology and Vice President for Mission and Ministry at Georgetown University. He currently serves on the boards of Seattle University and Fordham University. He writes in the areas of Jesuit higher education and Ignatian spirituality, having published the award winning book, The Ignatian Adventure, Experiencing the Spiritual Exercises of Saint Ignatius in Daily Life. He has had a long association with the Jesuit Refugee Service and their work.
Stephanie Russell
Vice President and Consultant for Mission Integration, Association of Jesuit Colleges and Universities (AJCU)
She/Her/Hers
Stephanie Russell, Ed.D. serves as Vice President and Consultant for Mission Integration at the Association of Jesuit Colleges and Universities. Her duties include designing and implementing programs to help Jesuit colleges and universities enhance their mission effectiveness, and supporting linkages among the schools in the Jesuit higher education network.
Prior to her work with AJCU, Dr. Russell was Vice President for Mission and Ministry at Marquette University for 15 years. She has worked in Jesuit ministries for more than three decades, including 11 years as Provincial Assistant for Lay Formation and Social Ministry with the Wisconsin Province of the Society of Jesus. She is a co-creator of the Ignatian Colleagues Program, a comprehensive developmental program for administrators at Jesuit colleges and universities across the country, along with other formational programs. She regularly directs retreats, writes, and speaks on Ignatian topics.
Dr. Russell maintains in her work a strong focus on Catholic social teaching and intellectual tradition, the Ignatian spiritual and educational heritage, and interreligious dialogue as means for deepening the mission of Jesuit schools. She earned a Bachelor of Arts from Marquette University, a Master of Arts in Pastoral Studies from St. Francis Seminary in Wisconsin, and a Doctorate in Higher Education Management from the University of Pennsylvania. She has been awarded honorary doctorates from Spring Hill College and Gonzaga University.
Reverend

Thomas H Smolich, S.J.
International Director, Jesuit Refugee Service
He/Him/His
Tom Smolich, S.J. has been International Director of the Jesuit Refugee Service (JRS) since October 2015. His assignments include service as Associate Pastor and Executive Director of Proyecto Pastoral at Dolores Mission in Los Angeles, and as Project Manager at Mid-Peninsula Housing Coalition, an affordable housing developer in the San Francisco Bay Area. From 1999-2005 he was the California Province Provincial, and from 2006-2014, President of the Jesuit Conference of the United States, coordinating national and international projects of the Society in the United States. He also worked in Masisi, Democratic Republic of Congo with JRS during 2015.
Tania Tetlow
President, Loyola University New Orleans
She/Her/Hers
Tania Tetlow, J.D., is the 17th university president of Loyola University New Orleans. She is the first woman and the first layperson to lead Loyola since the Society of Jesus founded the university in 1912. President Tetlow is also the fourth woman president as well as the youngest woman president to lead one of the 28 Jesuit colleges and universities in the U.S. that comprise the Association of Jesuit Colleges and Universities (AJCU.) As university president of Loyola University New Orleans, she is expected to usher in a new and exciting era at the 104-year-old Jesuit, Catholic university. She joins Loyola in August, 2018.
Previously, President Tetlow served as senior vice president and chief of staff as well as the Felder-Fayard Professor of Law at Tulane University, where she was key strategic adviser to President Michael Fitts. In this role, she held oversight of government, community, and board relations; she led special policy efforts on issues including campus safety, race and diversity, and campus sexual misconduct reforms. During her time as strategic adviser, Tulane's enrollment, retention, and fundraising soared, and the university experienced great cultural, community, and financial transformation.
A renowned lawyer and member of the Tulane Law School faculty since 2005, President Tetlow served as Tulane's inaugural associate provost for international affairs, coordinating the university's international programs, research, and students. Her research helped to usher in new anti-discrimination policies at the U.S. Department of Justice. She directed Tulane's Domestic Violence Law Clinic and raised a total of $2.3 million in federal grant funds. She advised governments and law clinics in Egypt, Rwanda, and Iran on domestic violence policy and was chosen to participate in the U.S. delegation to the Secretary of State's People-to-People Exchange in Beijing. In 2009, she was the newest faculty member ever to receive Tulane's University Graduate Teaching Award.
Before joining academia, President Tetlow was an associate at Phelps Dunbar, litigating complex commercial transactions. She also served as an assistant United States attorney, prosecuting everything from violent crime to fraud cases. President Tetlow brings to Loyola a wealth of experience, as well as strong community, donor, and industry relationships. She has served on a variety of nonprofit boards and city commissions. At the mayor's request, she led a turnaround of the NOPD Sex Crimes Unit. In the aftermath of Hurricane Katrina, she chaired the New Orleans Public Library board and raised $7 million to rebuild flooded branches. She was selected for the British American Project, a bilateral leadership organization, and later served as its U.S. chair. President Tetlow graduated cum laude from Tulane University with a bachelor of arts degree in American studies and is a magna cum laude graduate of Harvard Law School as well as a Harry Truman Fellow. A Catholic and a New Orleanian, President Tetlow has deep family ties to the Jesuits and has been a member of the Ignatius Chapel community at Loyola since she was 6 years old.
Nancy C. Tuchman
Founding Dean, Institute of Environmental Sustainability, Loyola University Chicago
She/Her/Hers
Dean Tuchman's vision for the Institute of Environmental Sustainability (IES) is to raise public awareness of the unsustainable consumption of Earth's natural resources with the goal of transforming behavior, developing policy, and inspiring and preparing next generation of science-based environmental leaders. Under Tuchman's direction, IES has developed several flagship programs including producing biodiesel which converts waste vegetable oil into fuel and uses it in intercampus shuttle buses; using waste glycerin to produce soap which is being sold in campus stores; and growing food organically at Loyola University Chicago's 4-acre student run farm and on their urban campus gardens.
Dean Tuchman's research focuses on human impacts on aquatic ecosystem structure and function. Her work has spanned from investigating the effects of greenhouse gases on stream ecosystem food webs, to the impacts of invasive plant and animal species on Great Lakes coastal ecosystems, to the effects of emerging contaminants such as plasticizers (Bisphenol-A), and pharmaceuticals (e.g. antibiotics and endocrine disruptors) on streams and lakes. Working with students in research is one of the most rewarding aspects of Tuchman's career. Throughout her 25-year career at Loyola, she has mentored or co-mentored 74 undergraduate students in individual research projects, and 34 graduate students.
Karsonya Wise Whitehead
Associate Professor of Communication and African and African American Studies, Loyola University Maryland, Department of Communication
She/Her/Hers
Recently selected to receive the 2019 Exceptional Merit in Media Award, Karsonya (Dr. Kaye) Wise Whitehead is an Associate Professor of Communication and African and African American Studies in the Department of Communication at Loyola University Maryland; the host of the award-winning radio show, Today With Dr. Kaye on WEAA 88.9 FM; and, an Opinion Editorial Columnist for the Baltimore Afro newspaper. She is the author of four books including RaceBrave: New and Selected Works and Notes from a Colored Girl: The Civil War Pocket Diaries of Emilie Frances Davis and can be reached by e-mail kewhitehead@loyola.edu, via twitter @kayewhitehead, or at her website www.kayewisewhitehead.com.
Joanna Williams
Director of Education and Advocacy, Kino Border Initiative
She/Her/Hers
Joanna Williams has been the Director of Education and Advocacy at the Kino Border Initiative (KBI) in Nogales, Arizona and Sonora since 2015. She graduated with a Bachelor's in Science from the School of Foreign Service at Georgetown University and received a Master's in Public Policy from Arizona State University. Prior to her current position, she has journeyed with immigrants in a variety of contexts. She volunteered at a shelter in Tierra Blanca, Veracruz, conducted Fulbright research on the reintegration of deported and return migrants, and worked as a coordinator for the American Civil Liberties Union's Border Litigation Project.