Global Social Justice Summer Research Symposium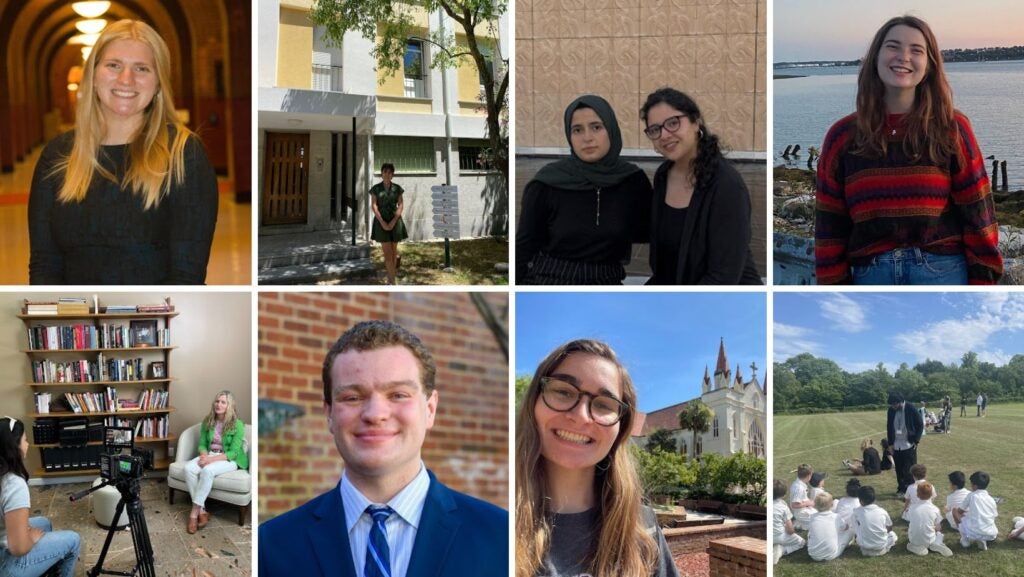 Our annual Global Social Justice Research Symposium, hosted by the Center for Social Justice Research, Teaching & Service (CSJ), the Berkley Center for Religion, Peace & World Affairs, and the Center for Research & Fellowships took place on Friday, September 23, 2022 from 10:00am ET – 2:00pm ET. The recordings will be posted here shortly. In the meantime, read this wonderful write-up of the Symposium from our colleagues in the Georgetown College!
Our student researchers have conducted compelling, timely, interdisciplinary research under significant constraints and precautions. Their creativity and resilience has been remarkable. We are so proud of them and are eager for them to share with you where they are in the research process. 
Please address questions about this event to csjresearch@georgetown.edu.
10:00am: Welcome // Education & Social Justice Fellows
The Education & Social Justice (ESJ) Fellowship is a 12+ years old exemplary collaboration between the Berkley Center and CSJ. 

Our 2022 ESJ fellows conducted fieldwork in-person, following all local and Georgetown public health guidelines:

Sarah Craig (SFS'23) conducted field research at our Jesuit peer, Spring Hill College, in Mobile, Alabama;
Kartikeya Uniyal (GU-Q'23) based his field research at St. John's Beaumont outside of London, England, and visited several Jesuit primary and secondary schools in the United Kingdom; and
Viktoria Hengelbrok (COL'23) was based in Lisbon, Portugal with a wonderful host, Fundação Gonçalo da Silveira ONGD Jesuíta and conducted research there.
11:00am: Laidlaw Undergraduate Leadership & Research Scholars
Renée Clark (C'24), a comparative case study analyzing the socio-political role of churches in small town Appalachia and historically within black urban communities
Dami Kim (C'24), created the Frederick Douglass Anthology which makes the abolitionist, writer, and orator's most prominent works accessible online
Cade Spencer (C'25), a critical policy analysis of current Texas dyslexia law to propose key priorities for the dyslexia crisis within the criminal justice system in Texas
Syed Kumail Zaidi (SFS'24)
12:00pm: Lunch for Registered Attendees
12:30pm: Summer Research Fellowships // Closing
Kerry O'Donnell (SFS'23), 2022 David F. Andretta Fellow, the role of memory and oral history in sustaining vulnerable outlying island cultures on Monhegan Island, off the coast of Maine
This event will be photographed in-person and recorded via Zoom. We may use the photographs for Georgetown University communications purposes. To request accommodations related to a disability for any event below, we kindly ask that you fill out this Google Form or contact Lucia.Cappelloni@georgetown.edu. A good faith effort will be made to meet requests made with 5 business days notice.